IN THE NEWS with Fastener News Desk the Week of May 22, 2023
hdfadmin
Here's what's happening in fastener industry news and events, the week of May 22, 2023.
Watch now on FastenerTV at YouTube: (10:00)
---
Specialist fastener manufacturer BUMAX has been selected to provide crucial fasteners to be used on the International Space Station (ISS). BUMAX 88 fasteners will be used to secure a new payload going to the ISS to measure the speed of sound.
Lars Holm, Managing Director, BUMAX. "Being trusted with supplying fasteners for projects such as CERN and ISS, which are essential to the evolution of mankind, is of course a source of immense pride and a testament to the quality of our products and BUMAX as a whole,"
"Being chosen again and again for the most demanding applications means that all our existing and new customers can rest assured that they are getting the best of the best.
---
DB Roberts, a leading distributor of high-quality specialty fasteners and hardware announced that David Peterson has joined DB Roberts as the Senior Vice President, providing collaborative leadership across the DB Roberts footprint. David brings over 20 years of distribution experience and 12 years of fastener experience to DB Roberts, including several years in the custom engineered and OEM fastener space.
DB Roberts Welcomes New Senior Vice President, David Peterson
---
Decades of experience command ACME into the next level of lean manufacturing. ACME Manufacturing announced that John Barrett will lead the company as President and Chief Operating Officer effective June 1st, 2023. Barrett will succeed Tim Broderick as he retires. Acme Manufacturing operates multiple divisions including Acme Metal Shapes, GarageWorks Steel, Coyote Landscape Products, Regal Brands, Perfection Chain Products and All America Threaded Products. Established in 1986, Acme has operated under current ownership since 1992 and employs over 200 people across three states.
ACME Manufacturing Appoints John Barrett, President & Chief Operating Officer
---
The International Fastener Expo is accepting nominations for the 2023 Fastener Hall of Fame and Young Fastener Professional of the Year prestigious Awards.
The Fastener Hall of Fame recognizes professionals who have made significant and enduring contributions to the industrial fastener industry on a national or global scale. Individuals selected for induction will join other honored industry members, including but not limited to inventors, business leaders, and educators.  The Young Fastener Professional of the Year award recognizes and honors a young professional who has made significant contributions to the fastener industry.
The recipients will be recognized at a special event during the International Fastener Expo and receive a commemorative plaque. The deadline for nominations has been extended to June 30th! Nominate today: https://fastenershows.com/awards-events-page/ife-2023-awards
---
Join hosts Eric Dudas and Brian Musker in the NEW episode of Fully Threaded Radio – Completely Different. FTR is predominantly fastener-related news, commentary, and infotainment for the industrial fastener industry.
Tune in at FullyThreaded.com
---
Congratulations to the featured business in the Fastener News Desk News Series: FASTENATING!
Mid-States Bolt & Screw Company, also known as "the dedicated fastener people", will celebrate 50yrs in business on May 24th, 2023! Founder Herb Somers had a vision for his fastener business that was simple and straightforward which led to the successful business it is today. After Herb's passing, that vision was upheld by his three sons Scott, Matt and Marc and they continue his legacy today.  In 50 years, Mid-States Bolt & Screw Co. has grown from a business out of its founders' basement to a multi-state, international business, with anticipated growth in the future.
---
Next generation advanced planning and scheduling is here! Optessa's AI-driven optimization ushers in a new way for manufacturers to generate optimal plans and schedules in a fraction of the time. Respond to disruptions, meet delivery dates, reduce excessive parts inventory, eliminate costly idle time, and stabilize your supply chain. Request a live demo of Optessa's NextGen APS platform today!
Visit https://www.optessa.com/ for more information! 
---
The Midwest Fastener Association is offering an intermediate training session Essentials of Metallurgy  on May 24, 2023 which will includes training in various areas by industry experts. Anyone selling or purchasing fasteners should have a comprehensive knowledge of Metallurgy, Heat Treating and Plating. The hands-on training will be taught at both SWD, Inc. and Morgan O'Hare. Go to https://mwfa.net/ to register for class.
---
MWFA will host their Screwed Up 2023 Open on May 25th at the White Pines Golf Club in Bensenville, IL. Join the MWFA for some in person networking and practice your golf before their official golf outing scheduled in August. Don't miss the fun! Go to https://mwfa.net/ for registration. Attendees can Join the MWFA for their second "Quarterly" Nuts & Brews after the Screwed Up Open at Church Street Brewing Co.
---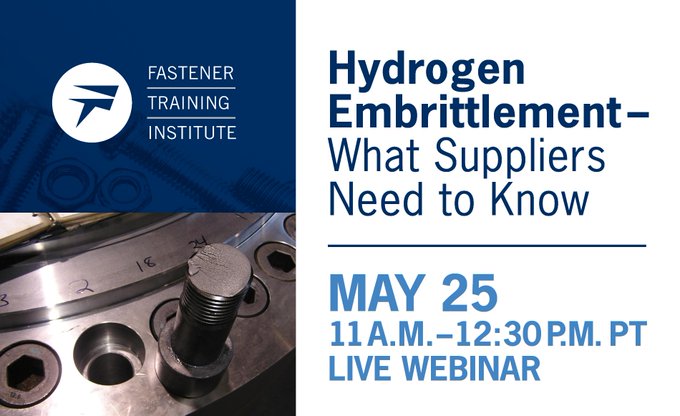 The Fastener Training Institute is offering online training in their upcoming Webinar: Hydrogen Embrittlement – What Suppliers Need to Know. The class will take place on Thursday, May 25, 2023 11:00 a.m. – 12:30 p.m. PT The Webinar Instructor is Carmen Vertullo of Carver labs, Fastener Consultant and Trainer. There is no quality assurance problem that gets suppliers in more trouble than Hydrogen Embrittlement (HE). This could easily be the most important 90 minutes of training your company EVER engages in. It does not matter if you process fasteners that are HE susceptible or not, you probably sell them or handle them somewhere in the supply chain. It is critical that you have a good understanding of Hydrogen Embrittlement, its causes, its effects and how to prevent and detect it. Register at https://fastenertrainingevents.com/hydrogen-embrittlement.htm
---
To learn more about our NEWS SERIES: FASTENATING a limited time offer 'Celebrating Your Success" Go to the Fastener News Group at LinkedIn. Your entry could be chosen for a FREE feature at Fastener News Desk which includes premium placement, link to your website, promo in the Fastener News communities, feature in an upcoming newsletter and 'IN THE NEWS Podcast' Entries may be submitted to lisa@fastenernewsdesk.com
---
BTM Manufacturing, Domestic Fastener Manufacturer is partnering with Issco, Inc, Twin Lakes Insurance, and Wachter Inc for an upcoming event to help support the good work of the Sleep in Heavenly Peace Organization. Help Jake and his team build 100-beds on June 10th. There is a couple of ways to get involved. Volunteer To Help Build or Donate funds. The cost of this project is $25,000.  Donated funds will provide the necessary lumber and hardware to build and assemble the beds as well as provide the mattresses, pillows, and bedding to make them complete. Every child deserves a warm, soft, and safe place to sleep at night and with your help we can see that NO KID SLEEPS ON THE FLOOR IN ANY TOWN! For more info on how you can help go to @BTMmfg on twitter. Together we make sure that every child has a bed to sleep in.
Donate: https://interland3.donorperfect.net/weblink/weblink.aspx?name=E345976&id=546…
Help Build Beds: https://signupgenius.com
---
The stories featured in this week's episode of IN THE NEWS can be found on Fastener News Desk or in our Twitter feed @FastenerNews and LinkedIn in the Fastener News Group!
---
RELATED CONTENT:
IN THE NEWS with Fastener News Desk the Week of May 15, 2023