IN THE NEWS with Fastener News Desk the Week of February 20, 2023
hdfadmin
Here's what's happening in Fastener News in and around the Fastener Industry the Week of February 20, 2023
Watch Now on FastenerTV (9:01)
Happy Presidents Day as the nation celebrates all those who have served as presidents of the United States. On this Presidents Day, we are sending prayers to President Carter and his family as it was announced that former President is at home receiving hospice care.
---
In Acquisition news…
AFC Industries announced that they have acquired Saginaw, MI based PF Markey Company. Terms of the deal were not disclosed.
Founded in 1977, PF Markey has grown to be one of the most innovative and capable distributors of cutting tools, abrasives, and other plant supplies in the country. Markey helps customers enhance efficiency and profit by working with them to provide comprehensive efficiency and cost savings programs. They have been a leader in industrial vending and VMI solutions since the 1990's. PF Markey will continue to be managed by Jim Terry, Tom Hagarty, and the Markey management team. Markey will be part of the AFC tooling division along with Cline Tool.
---
News out of Dayton, OH. The Winsupply Board of Directors has elected Jeffrey M. Dice as president of Winsupply Inc. effective March 1. Dice, currently the president of Winsupply Equity Group, will replace Winsupply Inc. President John McKenzie, who is retiring Feb. 28.
---
Attention Threadheads and FastenerNerds!
NEW Fully Threaded Radio Episode 185 – 'Not The End' is LIVE! Join hosts Eric Dudas and Brian Musker for their latest episode at FullyThreaded.com
---
The Mid-West Fastener Association will be hosting a State of the Industry Panel Discussion tomorrow February 21st in Oak Brook, IL. Attendees will learn the challenges of 2023, updates from Chris Donell/Scanwell Logistics and Christian Richter, from the Policy Group in Washington D.C. For more info go to MWFA.net
---
Dirk Beveridge of  UnleashWD has announced the first human resources event for distributors, designed to challenge traditional thinking on HR and help independent distributors win the war on talent. Registration is now open for the UnleashWD Human Resources Summit for distributors, April 27-28, 2023 in Nashville, Tenn.
Seating is limited for this event be sure to register today to reserve your seat. To Learn more or register at https://events.unleashwd.com/HRSummit
UnleashWD Launches First Human Resources Summit for Distributors
---

The Industrial Fasteners Institute will host their Annual Meeting March 4-7th in Napa, CA. The IFI is on track to break attendance records, with 210 registered attendees and counting! Join IFI for a great networking opportunity and to learn more about the IFI. For more info go to https://indfast.org
---
The National Fastener Distributors Association is accepting nominations for their Fastener Professional of the Year award which was created by NFDA to honor individuals and companies that make a substantial positive impact on people's lives.
The award recognizes:
Individuals from a fastener distributor or supplier company who make exceptional contributions to their companies and to the industry
Partners or consultants who demonstrate exemplary support of the fastener industry
Membership in NFDA is not a requirement to be selected for the Fastener Professional of the Year award. Self-nominations are acceptable, or nominations can be submitted by others. Nomination deadline is February 28th. Go to NFDA-Fastener.org for more info.
---
Women in the Fastener Industry accepting applications for Margaret Davis Scholarship. Scholarship application submission will offer WIFI Members requesting financial assistance to attend Fastener Fair USA. WIFI honors the memory of Margaret Davis of ISSCO, INC/BTM Manufacturing. Member Applications are due by April 5th, 2023.
Apply Now: https://www.fastenerwomen.com/scholarships
---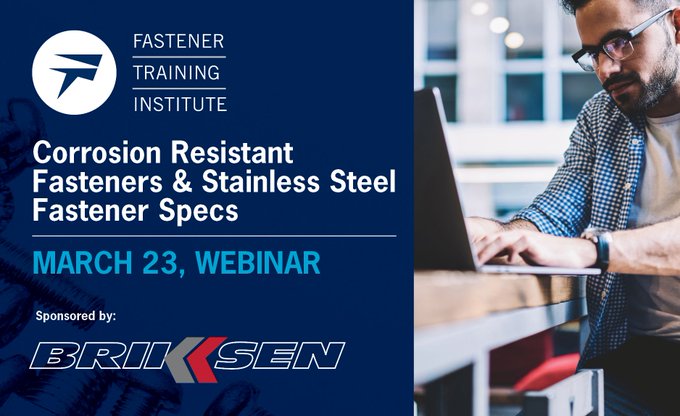 The Fastener Training Institute has a scheduled upcoming webinar. Corrosion Resistant Fasteners & Stainless Steel Fastener Specs. The webinar will take place on Thursday, March 23, 2023, 11:00 a.m. to 1:30 p.m. PT The instructor is Carmen Vertullo, Vice President of Business Development at AIM Testing Laboratory. The webinar will address FIGHTING CORROSION IN FASTENING and strategies to combat it, which cost billions of dollars every year. Industrial, transportation, construction, marine and military fastening applications all have specific solutions to the corrosion problem. This webinar will explore the various approaches to corrosion prevention in each of these areas. Brikksen is sponsoring the webinar. To register and learn more about any of the fastener training events we highlighted go to FastenerTraining.org
---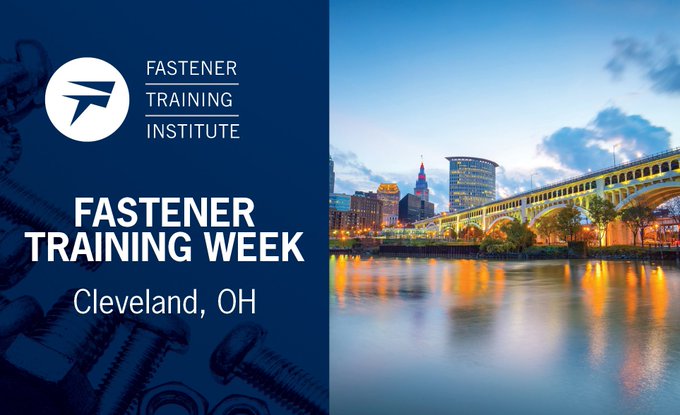 Fastener Training Week in Cleveland, OH will take place April 3-7th. The Fastener Training Institute and the Industrial Fasteners Institute (IFI) continue their partnership to present Fastener Training Week — This robust program includes five days of education and plant tours as part of the acclaimed FTI Certified Fastener Specialist™ (CFS) advanced technical training program. After completing this invaluable industry training in a small group environment and passing a final exam, attendees are eligible for the CFS designation. To register and learn more about any of the fastener training events we highlighted go to FastenerTraining.org
---
Have you tried buying fasteners online? Industrial products are comprehensive and purchasing them online can lead to poor customer experiences when utilizing filtered search, buyers are forced to use a multitude of search filters just to find a bolt. Product Genius's grid technology organizes and displays entire product categories from a one page buying experience. Experience the future of fastener buying online at 1-800-Fasteners.com.
Experience and Demo the FASTest Fastener buying at 1-800-Fasteners.com. 
PGT's services also include, data cleaning and preparation, consulting, and strategizing. Contact ProductGeniusTechnology.com or call 1-800-fasteners to find out how to get started today.
---
The stories featured in this week's episode of IN THE NEWS can be found at Fastener News Desk or in our Twitter feed @FastenerNews and on LinkedIn in the Fastener News Group!
---
If you would like to share your company's events, news or sponsor an upcoming episode of IN THE NEWS or would like to add to the Fastener Museum me: lisa@fastenernewsdesk.com.
---
Thanks for tuning in to this week's episode of IN THE NEWS with Fastener News Desk.

Until next week, be well, be safe and Keep it Fastenating
---
RELATED CONTENT:
IN THE NEWS with Fastener News Desk the Week of February 13, 2023
Fastener Event, Fastener News, Fastener TV, Fastener Training