IN THE NEWS with Fastener News Desk the Week of February 13, 2023
hdfadmin
Here's what's happening in and around the fastener industry in fastener news the week of February 13, 2023
Watch Now on FastenerTV (9:19)
---
Congratulations to our fastener friends and family from around the globe that rooted for NFL MVP Patrick Mahomes who lead the Kansas City Chiefs to 38-35 win over Philadelphia Eagles in a classic Super Bowl in Glendale, AZ over the weekend.
---
The Mid-West Fastener Association's Executive Director, Nancy Rich is set to retire at the end on 2023 after an unprecedented forty years of service. During her time with the Mid-West Fastener Association, Nancy's contributions have been vast.  She helped to break the gender barrier, pioneering women to stay involved and remain active in a male dominated industry. Nancy pushed the board of directors to remain diligent on what mattered most, education; spawning the associations mission statement "Where education is a Priority". She led and guided the MWFA board to raise and distribute more than $1,000,000 to fastener members and their families, orchestrating the largest scholarship program the industry knows today. In 2021 was inducted in to the MWFA and IFE Hall of Fame inductee.
Congratulations to Fastener Industry G.O.A.T. Nancy Rich! She will be sorely missed!
Executive Director, Nancy Rich to Retire from Mid-West Fastener Association
---
Fasteners, Inc. has been Acquired by Monroe Engineering. The acquisition closed January 31, 2023. Generational Equity Advised Fasteners, Inc. in the sale to Monroe Engineering. Generational Equity, a leading mergers and acquisitions advisor for privately held businesses.
Fasteners, Inc., located in Englewood, Colorado, , is a wholesale fastener distribution company founded in 1965. The Company has a philosophy of building relationships with their customers, taking care of their customer's needs and having inventory to support them. The Company's excellent industry reputation and local brand awareness has established it as a leading nuts and bolts distributor in the region.
---
The Fastener Distributor Index (FDI) survey for January 2023 rebounded modestly last month with another contractionary reading of 47.7, seasonally adjusted, rising from 43.8 the previous month.
The seasonally adjusted Fastener Distributor Index (FDI) began 2023 with another sub-50 reading, modestly improved over the previous month with a reading of 47.7. Commentary was mixed as some respondents pointed to still-strong customer backlogs and solid demand, while others saw significant slowing and cancellation of large blanket orders. Looking ahead, the Forward-Looking Indicator (FLI) continued to retreat further with a downbeat 41.4 reading, suggesting participants largely expect further
softening. Overall, the FDI/FLI continue to suggest a slowing demand backdrop for fasteners. For further commentary tune into Fully Threaded Radio's episode 185 coming soon.
---
The St. Louis Federal Reserve (FRED) Producer Price Index: Bolts, Nuts, Screws, Rivets, & Washers was updated on January 18, 2023 for Dec 2022: with a reading of 294.242 slightly higher than the Nov 2022 reading of 293.914. Do You Know What the acronym FRED stands for? It's short for Federal Reserve Economic Data, FRED is an online database consisting of hundreds of thousands of economic data time series from scores of national, international, public, and private sources. FRED, created and maintained by the Research Department at the Federal Reserve Bank of St. Louis.
---
The Würth Group announced that they will be donating EUR 500,000 to UNICEF as emergency aid for the people in Turkey and Syria who have been affected by the severe earthquakes. Additional help will go direct to their affected colleagues from the Würth Group.
#wuerthgroup #donation #emergencyaid #helpforturkey #helpforsyria #unicef
---
Women in the Fastener Industry accepting applications for Margaret Davis Scholarship. Scholarship application submission will offer WIFI Members requesting financial assistance to attend Fastener Fair USA. WIFI honors the memory of Margaret Davis of ISSCO, INC/BTM Manufacturing. Member Applications are due by April 5th, 2023.
Apply Now: https://www.fastenerwomen.com/scholarships
---
The Mid-West Fastener Association will be hosting a State of the Industry Panel Discussion on February 21st in Oak Brook, IL. Attendees will learn the challenges of 2023, updates from Chris Donell/Scanwell Logistics and Christian Richter, from the Policy Group in Washington D.C. For more info go to MWFA.net
---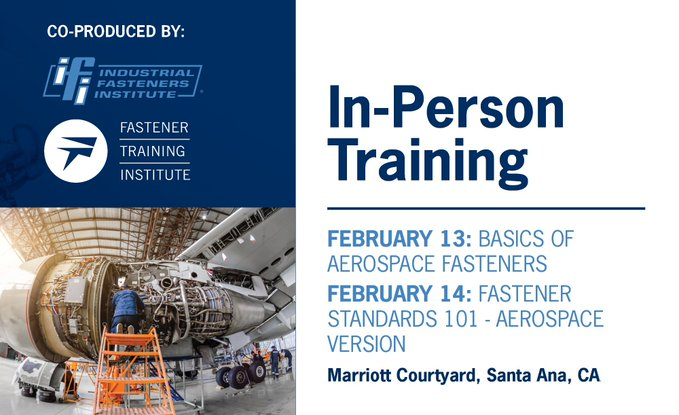 In person training: Basics of Aerospace Fasteners & Standards 101 Aerospace Version is co-produced  by The Fastener Training Institute and the Industrial Fastener Institute and will take place on February 13-14th in Santa Ana, CA.
---
Fastener Training Week in Cleveland, OH will take place April 3-7th. The Fastener Training Institute and the Industrial Fasteners Institute (IFI) continue their partnership to present Fastener Training Week — This robust program includes five days of education and plant tours as part of the acclaimed FTI Certified Fastener Specialist™ (CFS) advanced technical training program. After completing this invaluable industry training in a small group environment and passing a final exam, attendees are eligible for the CFS designation. To register and learn more about any of the fastener training events we highlighted go to FastenerTraining.org
---
Have you tried buying fasteners online? Industrial products are comprehensive and purchasing them online can lead to poor customer experiences when utilizing filtered search, buyers are forced to use a multitude of search filters just to find a bolt. Product Genius's grid technology organizes and displays entire product categories from a one page buying experience. Experience the future of fastener buying online at 1-800-Fasteners.com.
Experience and Demo the FASTest Fastener buying at 1-800-Fasteners.com. 
PGT's services also include, data cleaning and preparation, consulting, and strategizing. Contact ProductGeniusTechnology.com or call 1-800-fasteners to find out how to get started today.
---
The stories featured in this week's episode of IN THE NEWS can be found at Fastener News Desk or in our Twitter feed @FastenerNews and on LinkedIn in the Fastener News Group!
---
If you would like to share your company's events, news or sponsor an upcoming episode of IN THE NEWS or would like to add to the Fastener Museum me: lisa@fastenernewsdesk.com.
---
Thanks for tuning in to this week's episode of IN THE NEWS with Fastener News Desk.

Until next week, be well, be safe and Keep it Fastenating
---
---
Check out last week's episode of IN THE NEWS:
IN THE NEWS with Fastener News Desk the Week of January 30, 2023