IN THE NEWS with Fastener News Desk the Week of January 30, 2023
hdfadmin
Here's what's happening in and around the fastener industry in fastener news the week of January 30, 2023
Watch Now on FastenerTV (9:27)
Fastenal is in the news with three recent press releases:
Fastenal reported their 2022 Annual and Fourth Quarter Earnings. Their eCommerce: Daily sales rose 48.2% in 4Q22. Large customer-oriented electronic data interface (EDI) was up 45.0%, while web sales were up 58.8%. Sales through their Digital Footprint (FMI technology plus non-FMI-related eCommerce) was 52.6% of sales in 4Q22, versus 46.4% in 4Q21. They anticipate that they will hit 65% of their sales running through their Digital Footprint in 2023. Fasteners comprised 33% of Fastenal's 4Q sales and saw year-over-year growth of 9.1%.
Fastenal Company Reports 2022 Annual and Fourth Quarter Earnings
---
Fastenal Has Surpassed $1 Billion in Sales Outside the United States. Fastenal's international business has grown to include sales, service, and support teams in 25 countries spanning the Americas, Europe, and Asia. In 2022.
The $1 billion international sales milestone caps a decade of consistently strong growth. From 2012 to 2022, Fastenal's international revenues more than tripled. During this same time period, the number of international employees grew from approximately 1,800 to approximately 4,500, creating opportunities for new team members and emerging leaders around the world.
Fastenal Surpasses $1 Billion in Sales Outside the United States
---
Fastenal has released their Inaugural Environmental, Social, and Governance (ESG) Report. The report, which recaps Fastenal's progress in various environmental, social, and governance aspects during 2021, marks a significant step forward in the company's ESG journey. Fastenal is planning to publish annual ESG reports moving forward.
The report was produced with reference to the Global Reporting Initiative (GRI) standards and aligns with the ESG disclosure and reporting frameworks established by the Sustainability Accounting Standards Board (SASB) and the Taskforce on Climate-Related Financial Disclosures (TCFD).
---
MSC INDUSTRIAL SUPPLY CO. (NYSE: MSM), a premier distributor of Metalworking and Maintenance, Repair and Operations supplies to industrial customers throughout North America, announced that they have acquired Buckeye Industrial Supply Co., an independent metalworking distributor based in Columbus, Ohio, and Tru-Edge Grinding Inc., a St. Henry, Ohio-based custom tool manufacturer.
Buckeye and Tru-Edge are separate companies with shared ownership. Under the purchase agreement, Buckeye and Tru-Edge will continue to operate under their current names as MSC companies. The two companies had combined estimated revenue of $28 million in 2022 and they have 80 associates.
MSC Industrial Acquires Buckeye Industrial Supply Co. & Tru-Edge Grinding Inc.
---
International Fasteners, Inc. promoted Tony Strein from Regional Manager to the newly appointed position of National Accounts Manager. Tony has been instrumental in helping the International Fasteners grow for years and will work closely with the regional teams to help ensure the continued growth and focus on National Accounts. Built on quality, trust, and professionalism, IF has six stocking locations throughout the United States, carries one of the most comprehensive selections of construction fasteners, and sells exclusively through the distribution channel. For more information go to daggerz.com
International Fasteners, Inc. promotes Tony Strein to National Accounts Manager
---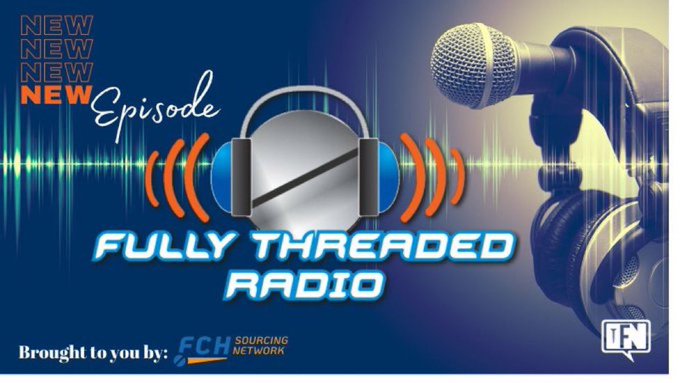 Listen Up Thread Heads and Fastener Nerds the NEW episode of Fully Threaded is LIVE! Listen in to Resolutions with hosts Eric Dudas and Brian Musker. They are joined by Premium locknut supplier J Lanfranco sees big opportunities appearing, as the cosmopolitan Jason Baines leads their North American push. Likewise, hard charger Matt Boyd is helping to guide Parker Fasteners forge ahead toward their vision of continued expansion and growth.  In contrast, the FDI took a dramatic hit to close the year just ended, and this time forward looking sentiment sagged as well. Tune in at FullyThreaded.com 
---
Mid-West Fastener Association will be hosting a State of the Industry Panel Discussion on February 21st in Oak Brook, IL. Attendees will learn the challenges of 2023, updates from Chris Donell/Scanwell Logistics and Christian Richter, from the Policy Group in Washington D.C. For more info go to MWFA.net
---
The Fastener Training Institute's second in a two-part webinar series: METRIC FASTENERS Is happening on Thursday, February 2nd | Time: 11:00 – 12:30 PT Register: FastenerTraining.org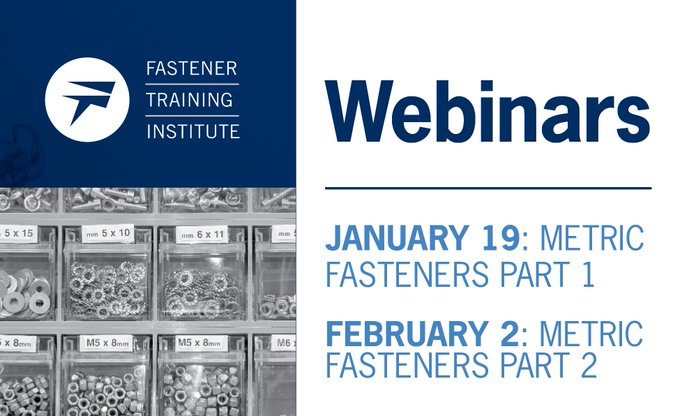 ---
In person training: Basics of Aerospace Fasteners & Standards 101 Aero Version is co-produced  by The Fastener Training Institute and the Industrial Fastener Institute and will take place on February 13-14th in Santa Ana, CA. Register: FastenerTraining.org
---
Fastener Training Week in Cleveland, OH will take place April 3-7th. The Fastener Training Institute and the Industrial Fasteners Institute (IFI) continue their partnership to present Fastener Training Week — This robust program includes five days of education and plant tours as part of the acclaimed FTI Certified Fastener Specialist™ (CFS) advanced technical training program. After completing this invaluable industry training in a small group environment and passing a final exam, attendees are eligible for the CFS designation.
To register and learn more about any of the fastener training events we highlighted go to FastenerTraining.org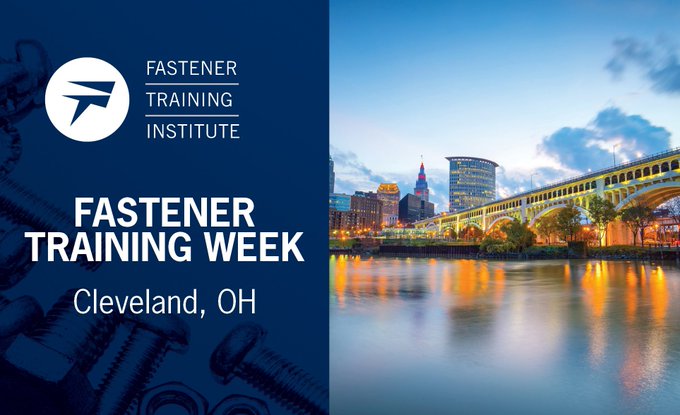 ---
The stories featured in this week's episode of IN THE NEWS can be found at Fastener News Desk or in our Twitter feed @FastenerNews and on LinkedIn in the Fastener News Group!
---
Have you tried buying fasteners online? Industrial products are comprehensive and purchasing them online can lead to poor customer experiences when utilizing filtered search, buyers are forced to use a multitude of search filters just to find a bolt. Product Genius's grid technology organizes and displays entire product categories from a one page buying experience. Experience the future of fastener buying online at 1-800-Fasteners.com.
Experience and Demo the FASTest Fastener buying at 1-800-Fasteners.com. 
PGT's services also include, data cleaning and preparation, consulting, and strategizing. Contact ProductGeniusTechnology.com or call 1-800-fasteners to find out how to get started today.
---
If you would like to share your company's events, news or sponsor an upcoming episode of IN THE NEWS or would like to add to the Fastener Museum me: lisa@fastenernewsdesk.com.
---
Thanks for tuning in to this week's episode of IN THE NEWS with Fastener News Desk.

Until next week, be well, be safe and Keep it Fastenating!
---
Check out last week's episode of IN THE NEWS:
---