IN THE NEWS with Fastener News Desk the Week of November 28th, 2022
hdfadmin
Here's what's happening in and around the fastener industry this week…
Watch Now on FastenerTV (8:36)
---
In Fastener Acquisition News…
Valley Fastener Group has completed the acquisition of TRAMEC Hill Fastener of Rock Falls, IL. Manny DeSantis, CEO of Valley Fastener Group, stated that since the founding of Hill Fastener Corporation in 1957, Hill understands the importance of producing high-quality fasteners and meeting the demands of a consistently changing fastener market. It is this foundation, combined with their complementary manufacturing capabilities, that makes Hill Fastener a tremendous addition to the Valley Fastener Group family.
---
An aerial view of gantry cranes, shipping containers, and freight railway trains ahead of a possible strike if there is no deal with the rail worker unions, at the Union Pacific Los Angeles (UPLA) Intermodal Facility rail yard in Commerce, California, U.S., September 15, 2022. REUTERS/Bing Guan
Update from Reuters today as more than 400 groups called on Congress to 'take immediate action' and intervene in the ongoing railroad labor standoff that threatens to idle shipments of food and fuel and strand rail travelers while inflicting billions of dollars of economic damage. Workers in four unions have rejected a tentative contract deal announced in September, while eight approved it. The U.S. Chamber of Commerce, National Association of Manufacturers and other groups warned impacts of a potential strike could be felt as soon as Dec. 5. Unions and railroads have until Dec. 9 to resolve differences. If they do not, workers could strike or railroads could lock out employees – unless Congress intervenes. https://www.reuters.com/world/us/400-groups-urge-us-lawmakers-take-immediate-steps-block-potential-rail-strike-2022-11-28/
---
A recent study by Fortune Business Insights™ reports the Aerospace Fasteners Market to Reach USD $7.73 Billion by 2029, Exhibiting a Compound Annual Growth Rate of 6.85% through -2029.  Rising demand for aircraft is expected to boost the adoption of #fasteners. https://einnews.com/pr_news/602641841/aerospace-fasteners-market-to-hit-usd-7-73-billion-by-2029-exhibiting-a-cagr-of-6-85-by-2022-2029
---
Fully Threaded Radio Episode #182 – Asking For It is LIVE! Highlights include Selling fasteners begins by asking for the order, as Tim "Action" Jackson proved during an illustrious career in the thread game. Newly appointed Marine Fasteners CEO Dee Ward asks his team for their best and stainless structural bolts on the Fastener Training Minute and more at FullyThreaded .com with hosts Eric Dudas and the marmite marvelous Brian Musker.
---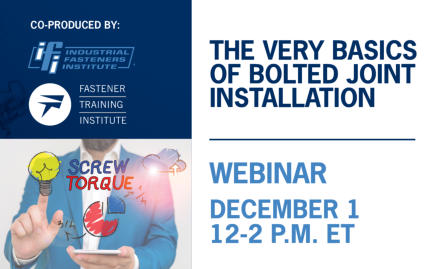 The Fastener Training Institute and Industrial Fasteners Institute will present a live webinar looking at how we install fasteners and why. The Very Basics of Bolted Joint Installation will take place December 1st at 12:00-2PM ET. Participants will gain an understanding of the fastener engineering of the bolted joint and how users approach achieving the tension they desire. This is a "basics" webinar and good for anyone new to the fastener industry, in a position where understanding how the customer is applying the product is essential, or just wants to learn more about the industry. For more information go to FastenerTraining.org
---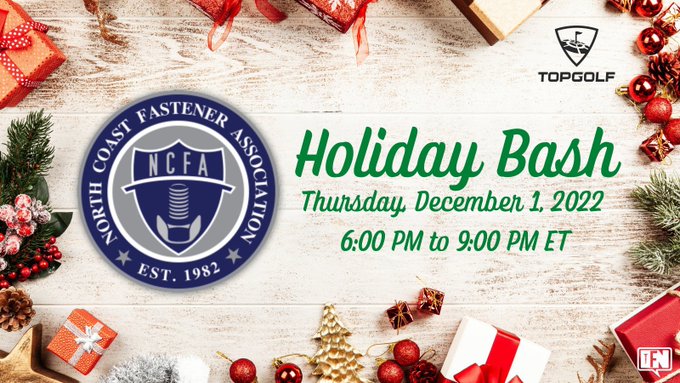 The North Coast Fastener Association Holiday Bash at TOPGOLF is coming up on Thursday, December 1st.  Participants will enjoy golf play, dinner and drinks and a fun night out with fastener industry friends before the hectic holiday season is in full swing!  Go NCFAonline.com for more info.
---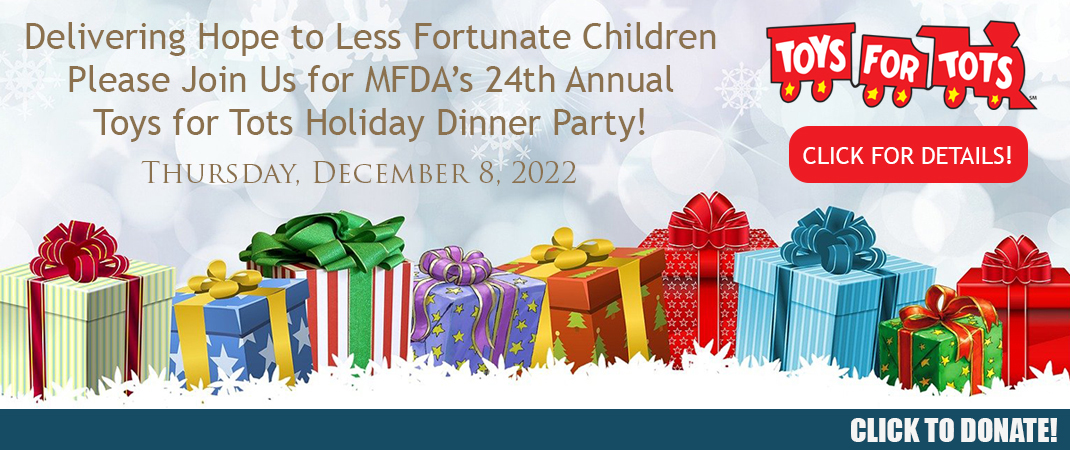 The Metropolitan Fastener Distributor Association will be delivering hope this Christmas for the less fortunate with their 24th Annual Toys for Tots Holiday Dinner. The MWFA will be supporting Toys for Tots at their annual holiday party December 8th, 2022 6:00 – 9:00PM. Please be sure to bring an unwrapped toy or cash gift so that no child is left out this Holiday season. Go to MWFA.net to register or donate today!
---

Pac West Fastener Associations Holiday Casino Party & Toys for Tots Collection takes place Thursday, December 8, 2022, at the Holiday Inn, in La Mirada, CA. The Pacific-West Fastener Association is proud to be a longtime sponsor of the U.S. Marine Corps Reserve's Toys for Tots program. If you can, please bring a new, unwrapped toy for this worthy cause.  You'll get an extra raffle ticket too!
---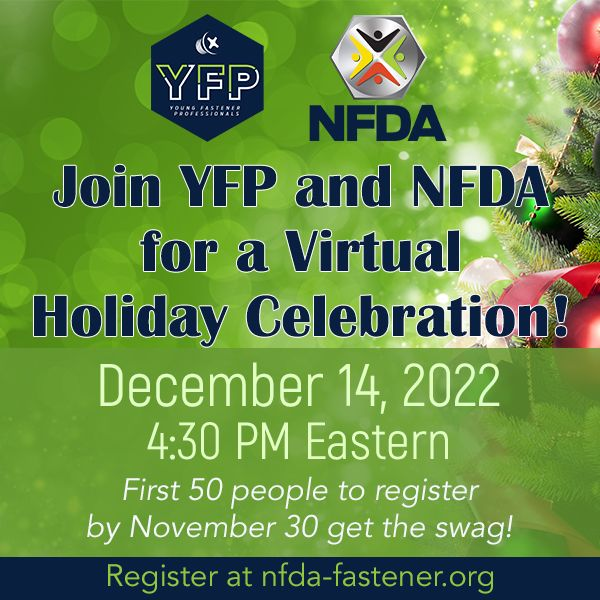 The National Fastener Distributor Association will host their 2022 Virtual Holiday Celebration! Join the National Fastener Distributor Association for a fun and relaxed virtual event with spirits and classic holiday trivia Wednesday, December 14, 2022, at 4:30 PM Eastern. The first 50 people to register by November 30 also get a complimentary gift package. Click here for more information or to register. The NFDA & YFP hope you'll join them for some holiday fun! This event is free, but registration is required. To register go to: NFDA-Fastener.org
Celebrate the Holidays with the
---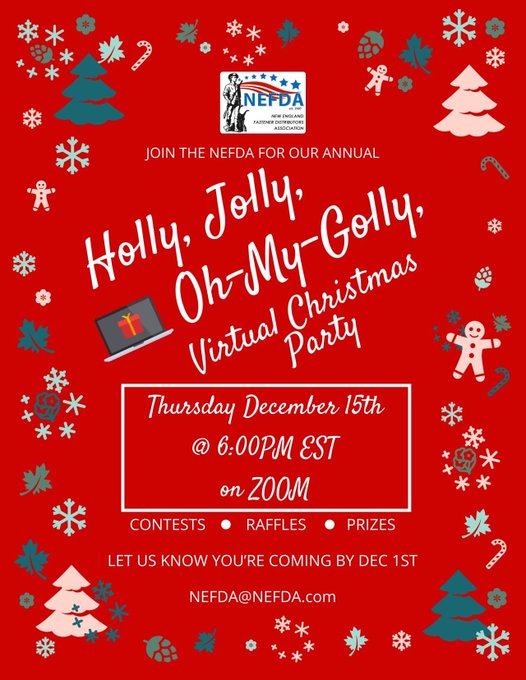 Northeast Fastener Distributor Association and fastener friends on December 15th @ 6:00pm (EST) for their Virtual Jingle & Mingle Christmas Party! Go to NEFDA.com for registration information.
---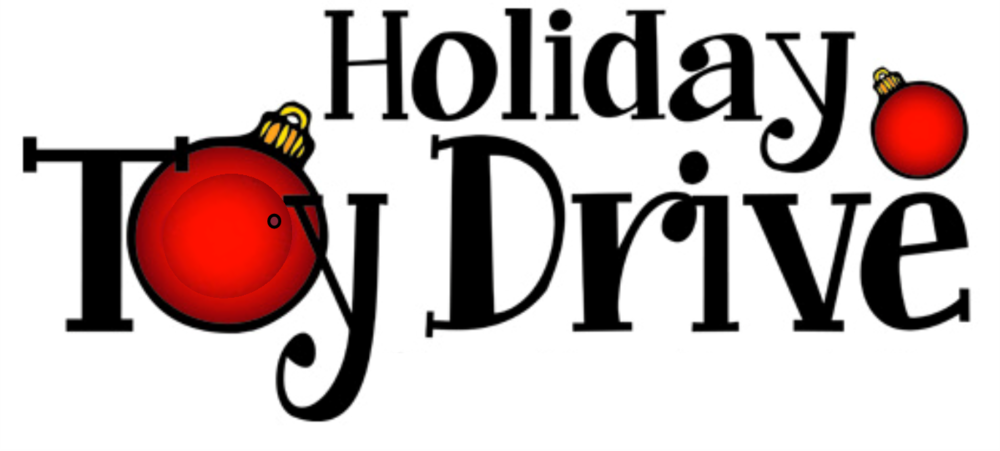 The southwestern Fastener Association will host their Holiday Toy Drive on Thursday, December 15th, 2022 5:30 PM – 8:30 PM CST. This a great time to give back while meeting up with people in the fastener industry to expand your network. Go to Southwesternfastener.org to register!
---
The stories featured in this week's episode of IN THE NEWS can be found at Fastener News Desk or in our Twitter feed @FastenerNews and on LinkedIn in the Fastener News Group!
---
Industrial products are comprehensive and purchasing them online can lead to poor customer experiences when utilizing filtered search. The Product Genius's grid technology allows your clients to search, sort and purchase 100's of products from a one-page buying experience.
Experience and Demo FAST Fastener buying at 1-800-Fasteners.com.
PGT's services also include, data cleaning and preparation, consulting, and strategizing. Contact ProductGeniusTechnology.com or call 1-800-fasteners to find out how to get started today.
---
If you would like to share your company's events, news or sponsor an upcoming episode of IN THE NEWS or would like to add to the Fastener Museum me: lisa@fastenernewsdesk.com.
---
Thanks for tuning in to this week's episode of IN THE NEWS with Fastener News Desk.

Until next week, be well, be safe and Keep it Fastenating.
---
RELATED CONTENT:
IN THE NEWS with Fastener News Desk the Week of November 21st, 2022
IN THE NEWS with Fastener News Desk the Week of November 14th, 2022
Watch more episodes of 'IN THE NEWS' with Fastener News Desk, click here.
Fastener Event, Fastener News, Fastener News Podcast, Fastener TV, Featured