IN THE NEWS with Fastener News Desk the Week of November 7th, 2022
hdfadmin
Here's what's happening in and around the fastener industry the Week of November 7th, 2022
Listen now: (7:05)
In The National Association of Manufacturers' Monday Economic Report Manufacturing employment increased by 32,000 in October, up from 23,000 in September and continuing to rise solidly. Currently, the manufacturing sector has 12,922,000 employees, the most since November 2008. The average hourly earnings in manufacturing rose from $25.25 in September to $25.35 in October, up 4.9% from one year ago.
The labor market remained a bright spot in an economy that has seen softening in other areas. Through the first 10 months of 2022, the sector hired 367,000 employees, building on the 365,000 workers added in calendar year 2021 and the most so far of any year since 1994.
---
WIFI (Women in the Fastener Industry) Announces Scholarship Winner: Amanda Chance, Fast-Spec Inc, is the winner of the Joanne Sherman E-Learning (THORS) Scholarship. This scholarship will allow Amanda to build skills and learn more in the classes she chooses to take within the fastener industry.
---

NEFCO, a leading partner to the construction trades has opened a new fulfillment center in Columbus, Ohio to further support and service professional contractor trades throughout the Midwest. This is NEFCO's third fulfilment center and is designed to support growth in the Ohio market. The new Ohio fulfillment center is in Albany, Ohio and will provide customers with access to local inventories and enhanced services. The 75,000 square foot warehouse will include an extensive inventory.
NEFCO has been awarded a Top Workplaces 2022 honor by Hartford Courant Top Workplaces. The list is based solely on employee feedback gathered through a third-party survey administered by employee engagement technology partner Energage LLC. The anonymous survey uniquely measures 15 culture drivers that are critical to the success of any organization: including alignment, execution, and connection, just to name a few.
---
A labor union representing about 4,900 rail workers said that members narrowly ratified a tentative contract agreement with freight railroads in the United States. The union representing locomotive machinists, roadway mechanics, and facility maintenance personnel is the seventh of 12 to approve the deal, while two unions previously voted to reject the national deal announced in mid-September. Read more:
---
Howmet Fastening Systems a division of Howmet Aerospace, is pursuing a business grant from the city of Waco and McLennan County as it pledges to expand its plant, install $9.1 million in new equipment and create 17 new full-time positions. Read more: 
---

2022 NFDA EXECUTIVE SUMMIT
November 9 – 11, 2022 at The Naples Grande Beach Resort Naples, FL @nfdafastener
Includes:
NFDA Board of Directors Meeting
The Culture of Comfort – How Business Suffers from the Pursuit of the Easy Way with Tim O'Keeffe
Transportation and Logistics Update with Chris Donnell
Roundtable Discussions
State of the Industry Panel Discussion with Bryan Wheeler, Jun Xu, and Sebastian Janas
Get more info: NFDA-Fastener.org
---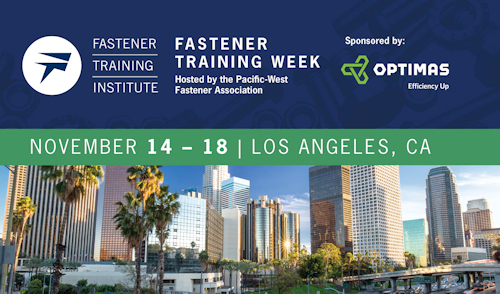 Fastener Training Week | LA | starts next Monday, Nov. 14-18, 2022. Fastener Training Week offers 5 intensive days of education and virtual plant tours as part of the acclaimed FTI Certified Fastener SpecialistTM (CFS) advanced technical training program. Fastener Training Week is sponsored by Optimas. To register go to FastenerTraining.org.
---
November 17th is After Hours with the Pacific West Fastener Association. 5-8PM at BJ's Restaurant and Brewhouse Stop by and meet other people in the fastener industry and expand your professional network.  For more info go to Pac-West.org
---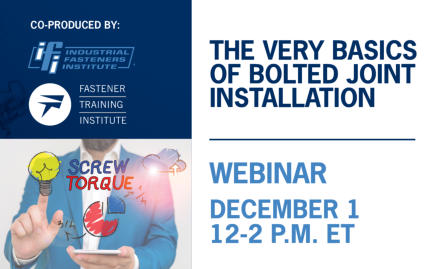 The Fastener Training Institute and Industrial Fasteners Institute present a live webinar looking at how we install fasteners and why. The Very Basics of Bolted Joint Installation will take place December 1st at 12:00-2PM ET. Participants will gain an understanding of the fastener engineering of the bolted joint and how users approach achieving the tension they desire. This is a "basics" webinar and good for anyone new to the fastener industry, in a position where understanding how the customer is applying the product is essential, or just wants to learn more about the industry. For more information go to FastenerTraining.org
---
The stories featured in this week's episode of IN THE NEWS can be found at Fastener News Desk or in our Twitter feed @FastenerNews and on LinkedIn in the Fastener News Group!
---
Industrial products are comprehensive and purchasing them online can lead to poor customer experiences when utilizing filtered search. The Product Genius's grid technology allows your clients to search, sort and purchase 100's of products from a one-page buying experience. Experience and Demo FAST Fastener buying at 1-800-Fasteners.com.
PGT's services also include, data cleaning and preparation, consulting, and strategizing. Contact ProductGeniusTechnology.com or call 1-800-fasteners to find out how to get started today.
---
If you would like to share your company's events, news or sponsor an upcoming episode of IN THE NEWS or would like to add to the Fastener Museum me: lisa@fastenernewsdesk.com.
---
Thanks for tuning in to this week's episode of IN THE NEWS with Fastener News Desk.

Until next week, be well, be safe and Keep it Fastenating.
---
RELATED CONTENT: