IN THE NEWS with Fastener News Desk the Week of October 31st, 2022
hdfadmin
Happy Halloween to all our listeners and freaky fastener friends.
Here's what's happening in and around the fastener industry the Week of October 24th, 2022
Listen now: (6:43)
---
In Fastener News…
Pivot Point Incorporated, a manufacturer of Non-Threaded Fastener solutions, has completed a 30,000 square foot expansion to their manufacturing facilities in Wisconsin. This will bring their total manufacturing campus to nearly 100,000 square feet. Pivot Point manufactures both stock and specialty Non-Threaded Fastener Solutions.
The Best Booth awards from the International Fastener Expo Have been announced. And the winner are…
BEST OVERALL BOOTH – CONTINENTAL-AERO claims the Championship Belt
BEST GROUP – BRIGHTON BEST INTERNATIONAL
BEST CUSTOMER EXPERIENCE – FULLER METRIC PARTS LTD. & PACIFIC BOLT MANUFACTURING
BEST GIVEAWAY – RISCO FASTENERS
BEST CREATIVITY – AFIXX CROSSROADS
BEST USE OF TECHNOLOGY – FRY STEEL
Fastener News Desk's Best Booth Awards from IFE 2022 Announced
---
Lots of buzz still happening around the very well received international fastener expo in Vegas. This year's show provided new features and proved that in-person events are making a strong rebound! IFE 2022 saw outstanding attendance, gathering more than 3,500+ attendees representing 36 countries from around the world for the three-day event. Show Director, Morgan Wilson said, "It was clear our industry was ready to be back in person and reconnect with each other." The Expo Floor featured 450 total exhibitors including 30 new exhibitors making their debut at IFE this year.
---
The IFE Fastener Hall of Fame and Young Fastener Professional of the Year award ceremony took place in Las Vegas. The Hall of Fame Inductees were: Andy Cohn – Duncan Bolt, Tim Malone – Spring Bolt and Nut Manufacturing, Rick Rudolph – Rick Rudolph Associates LLC., and Joseph Volltrauer – Volt Industrial Plastics. The IFE Young Fastener Professional of the Year went to Bryan Wheeler – Star Stainless. For those of you unable to attend we have transcripts of the acceptance speeches and videos featured at Fastener News Desk or on our YouTube channel FastenerTV.
IFE 2022 Fastener Hall of Fame & Young Professional of the Year Award Ceremony
---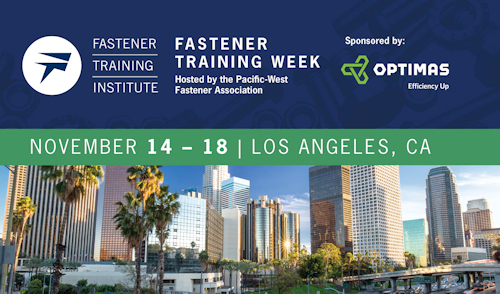 FASTENER TRAINING WEEK – LOS ANGELES is right around the corner! Today is the last day to take advantage of Early Bird registration. Earn your Certified Fastener Specialist™ (CFS) designation at the end of a 4-day immersive education experience! Instead of 7 separate one-day classes, Fastener Training  Week | LA will offer 4 intensive days of education and virtual plant tours as part of the acclaimed FTI Certified Fastener SpecialistTM (CFS) advanced technical training program. See details and register at FastenerTraining.org. Fastener Training Week is sponsored by Optimas. http://fastenertrainingstore.com/product203.html
---
ThreadHeads and FasteNerds Fully Threaded Radio episode 181 is LIVE! The latest episode
" The No Show Show" explains that IFE is like no other show in the fastener industry, and this year's edition seemed a lot like "the good old days" without the carpeting.  FTR's Lynn Dempsey took her mic to the show floor and spoke to attendees from every part of the thread biz. Go to FullyThreaded.com to hear the latest episode.
---
On November 3rd is the Midwest Fastener Association's Scholarship Awards & Elections Dinner. Guest Speaker will Dan Hampton, former Chicago Bears player. Get more info: https://www.mwfa.net/pdf/110322.pdf @MWFA_News
---
November 17th is After Hours with the Pacific West Fastener Association. 5-8PM at BJ's Restaurant and Brewhouse Stop by and meet other people in the fastener industry and expand your professional network.  Pac-West will host one beverage per person along with complimentary appetizers! More info: https://www.pac-west.org/
---
The stories featured in this week's episode of IN THE NEWS can be found at Fastener News Desk or in our Twitter feed @FastenerNews and on LinkedIn in the Fastener News Group!
---

Industrial products are comprehensive and purchasing them online can lead to poor customer experiences when utilizing filtered search. The Product Genius's grid technology allows your clients to search, sort and purchase 100's of products from a one-page buying experience. Experience and Demo FAST Fastener buying at 1-800-Fasteners.com.
PGT's services also include, data cleaning and preparation, consulting, and strategizing. Contact ProductGeniusTechnology.com or call 1-800-fasteners to find out how to get started today.
---
If you would like to share your company's events, news or sponsor an upcoming episode of IN THE NEWS or would like to add to the Fastener Museum me: lisa@fastenernewsdesk.com.
Thanks for tuning in to this week's episode of IN THE NEWS with Fastener News Desk.

Until next week, be well, be safe and Keep it Fastenating.
---
RELATED CONTENT: 
IN THE NEWS with Fastener News Desk the Week of October 24th, 2022
IN THE NEWS with Fastener News Desk the Week of October 17th, 2022 | IFE 2022 (Special Edition)