IN THE NEWS with Fastener News Desk the Week of October 24th, 2022
hdfadmin
Here's what's happening in and around the fastener industry the Week of October 24th, 2022
Listen now: (7:02)
---
In Fastener News…
The fastener industry gathered last week for the International Fastener Expo. The 41st edition of the International Fastener Expo happened in Las Vegas October 17-19th. The expo saw a record number of exhibitors and attendees since prior to the pandemic. More than 450 exhibitors were eager to connect with attendees from all areas of the fastener industry including master distributors, distributors, manufacturers, importers, engineers, technology providers, and sales reps.
Fastener News Desk really enjoyed connecting with everyone at the expo. There was a definite buzz amongst the crowd, the joy of being together networking in Vegas!
The Best Booth Award winners from the International Fastener Expo have been selected! There were some NEW big & colorful exhibitors that brought their game to the expo floor of IFE 2022. Stay tuned for FND to announce the winners later this week! Find out which booth will claim the first ever FND | IFE 2022 Best Booth Award Championship belt!
---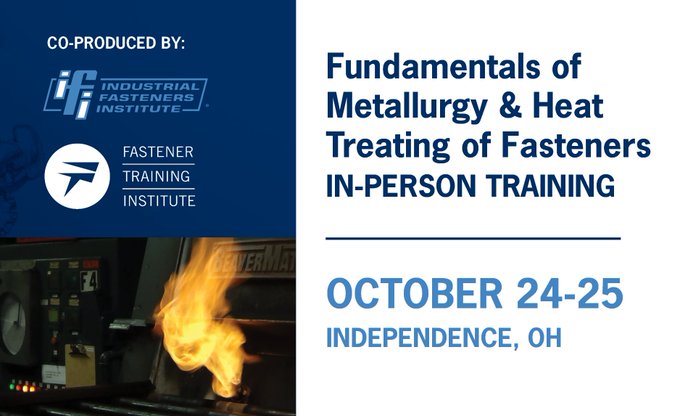 Happening today, and thru the 25th is The Fastener Training Institute and Industrial Fasteners Institute's in-person, two full-day training opportunity on the fundamentals of fastener metallurgy and heat treatment. Go to FastenerTraining.org to find out about upcoming classes.
---
In eCommerce News…
MSC Industrial Supply is honing its digital commerce offerings. CEO Erik Gershwind said last week that metalworking and MRO products distributor has been busy "improving its entire digital offering." As a result, digital commerce sales increased 17% to $2.28 billion for the fiscal year ended Sept. 3. By comparison, total sales grew 13.8%. Gershwind said ecommerce is one of MSC's priority areas of growth, along with expanding its metalworking products and services and building out its public sector sales.
He noted that the company's first chief digital officer, John Hill, who was appointed in April, has been "quite busy improving our website and our entire digital offering." Gershwind didn't go into specifics but added, "So far, the feedback we've received from the field is excellent." Read more: 
---
Fastenal, reports that ecommerce is 'becoming part of their DNA'. CEO Dan Florness said Ecommerce, including sales through Fastenal.com, accounted for 18% of total third-quarter revenue, while total "digital footprint" sales including internet vending machines grew to 50%. The share of ecommerce, including web sales and EDI transactions, amounted to $324 million out of $1.8 billion in total Q3 sales for at the wholesale distributor of fasteners and other industrial and construction supplies. Factoring in other digital sales through internet vending machines and other digital channels — what Fastenal calls its total "digital footprint" — digital commerce overall accounted for 50% of total sales, or $901 million.
---
ThreadHeads and FasteNerds Stay tuned for Episode 181 from Fully Threaded Radio! Scheduled to drop anytime now! Go to FullyThreaded.com to hear the latest episode.
---
November 3rd is the Midwest Fastener Association's Scholarship Awards & Elections Dinner. Guest Speaker will Dan Hampton, former Chicago Bears player. Get more info: https://www.mwfa.net/pdf/110322.pdf @MWFA_News
---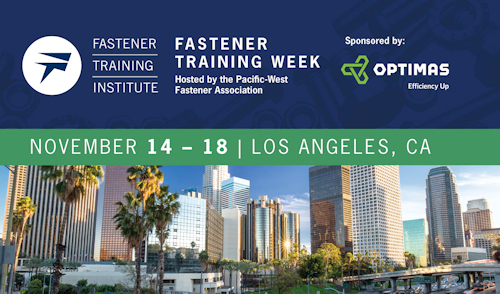 Fastener Training Week | LA | is happening Nov. 14-18, 2022. Instead of 7 separate one-day classes, Fastener Training Week | LA will offer 4 intensive days of education and virtual plant tours as part of the acclaimed FTI Certified Fastener SpecialistTM (CFS) advanced technical training program. See details and register at FastenerTraining.org. Fastener Training Week is sponsored by Optimas.
---
November 17th is After Hours with the Pacific West Fastener Association. 5-8PM at BJ's Restaurant and Brewhouse Stop by and meet other people in the fastener industry and expand your professional network.  Pac-West will host one beverage per person along with complimentary appetizers!
---
The stories featured in this week's episode of IN THE NEWS can be found at Fastener News Desk or in our Twitter feed @FastenerNews and on LinkedIn in the Fastener News Group!
---

Industrial products are comprehensive and purchasing them online can lead to poor customer experiences when utilizing filtered search. The Product Genius's grid technology allows your clients to search, sort and purchase 100's of products from a one-page buying experience. Experience and Demo FAST Fastener buying at 1-800-Fasteners.com.
PGT's services also include, data cleaning and preparation, consulting, and strategizing. Contact ProductGeniusTechnology.com or call 1-800-fasteners to find out how to get started today.
---
If you would like to share your company's events, news or sponsor an upcoming episode of IN THE NEWS or would like to add to the Fastener Museum me: lisa@fastenernewsdesk.com.
---
Thanks for tuning in to this week's episode of IN THE NEWS with Fastener News Desk.

Until next week, be well, be safe and Keep it Fastenating.
---
RELATED CONTENT:
IN THE NEWS with Fastener News Desk the Week of October 10th, 2022
IN THE NEWS with Fastener News Desk the Week of October 17th, 2022 | IFE 2022 (Special Edition)