IN THE NEWS with Fastener News Desk the Week of October, 17, 2022 | IFE 2022 (Special Edition)
hdfadmin
Here's what's happening in the fastener industry this week!
This episode of FND's IN THE NEWS is dedicated to The International Fastener Expo that begins today in Las Vegas! THE IFE is No. America's largest B2B expo for fasteners, tool & machinery in No. America! With more than 450 exhibitors eager to connect with attendees from all areas of the fastener supply chain including distributors, manufacturers, importers, engineers, technology providers, and sales reps.
Watch now on FastenerTV : (12:12)
---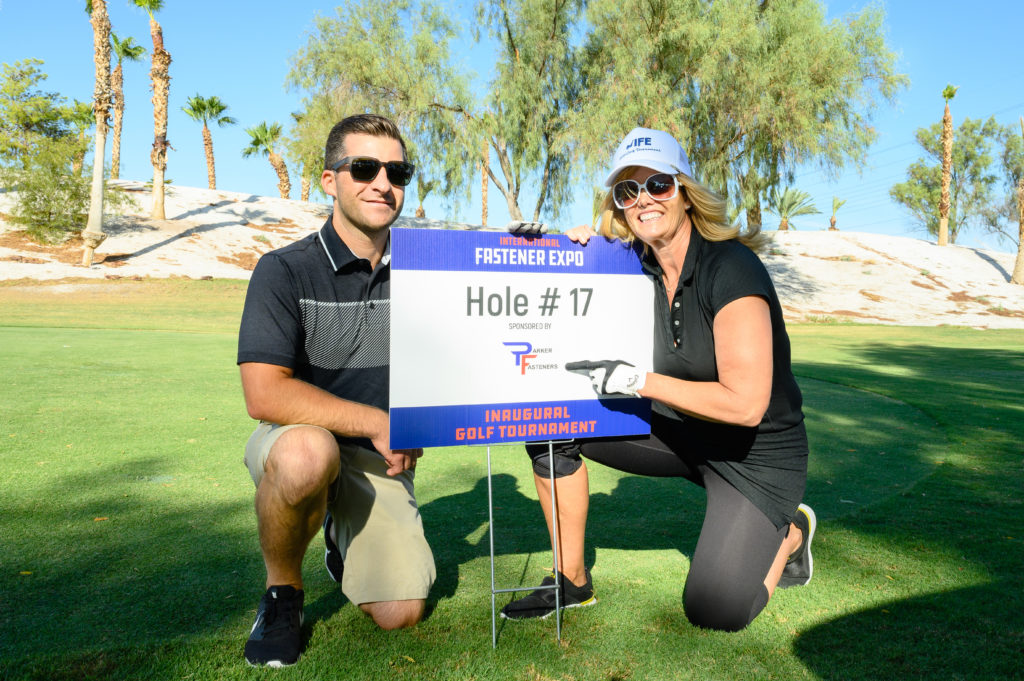 Happy Monday! let's get right to the IFE schedule which began this morning with the SOLD-OUT International Fastener Expo 3rd Annual Golf Tournament at the Bali Hai Golf Club. Fastener friends gather to tee off and win fantastic prizes! Is there better place to drive business than on the golf course?
---
Starting this morning 8:30 AM – 4:30 PM | Fastener Class: How Fasteners Are Made & What Drives the Cost of a Fastener
The all day class is presented by the Fastener Training Institute, with fastener expert Laurence Claus. He'll takes participants into the fastener manufacturing world and explore why the often under-appreciated components are complex engineering marvels.
---
This evening is the official kick-off of the International Fastener Expo! Join the IFE & Fastener Industry friends at the always well attended Welcome Reception Party from 6 – 8 PM  at Daylight Pool, Mandalay Bay for a fun night of networking, appetizers, and drinks. Happening
---
Tuesday, October 18th- It's rise and shine in sunny Las Vegas!
From 8:30 AM – 9:30 AM will be the first ever Keynote Presentation at the IFE. Hear from Dirk Beveridge. Dirk is a leading advocate of change and innovation in distribution. As one of the country's most outstanding speakers, he delivers a new voice, a new energy, & new outlook.
Dirk Beveridge will deliver his keynote session: INNOVATE! How to Create Relevancy in the Age of Disruption
In this keynote presentation, Dirk Beveridge will examine:
How to Construct a vision that becomes a unifying force for change
Develop a culture of innovation and excellence
Distinguish your business through an innovative value proposition
Examine your business model relevance
Identify your leadership readiness along the spectrum of distributors
Get to Meeting Room: Jasmine E F G early to make sure to save your space!
---
Directly after the Keynote, at 9:30 AM THE INTERNATIONAL FASTENER EXPO Hall officially Opens!
BE SURE TO be on the lookout for Fastener News Desk as they scope the expo floor for the 2022 BEST BOOTH AWARD WINNERS!
---
IFE offers excellent educational tracks at SESSIONS STAGE on the expo floor: The sessions get underway starting at 10:00 AM
---
The first session is "You Can't Buy These at the Hardware Store" – A Primer on What Sets Aerospace Fasteners Apart From Other Fastener Market Segments | 10:00 – 10:30 AM
Speaker: Laurence Claus, of NNi Training and Consulting will introduce some of the fastening technology unique to aerospace fasteners. He will introduce different categories of aerospace fasteners including Pin and Collar fasteners, Blind bolts and rivets, Solid Rivets, Inserts, Nut Plates, Wrenchable Nuts, Bolts and Screws, and Honeycomb Fasteners. Mr. Claus will also briefly explain what systems and credentials an aerospace fastener supplier must possess.
---
10:45 AM – 11:30 AM    Why 3D Printing Will Have an Impact on Fasteners
Speaker: AJ Strandquist, Wurth Additive Group will explain how 3D printing presents obstacles and opportunities in the world of fasteners, both their consumption and production. It's happening already in some upscale markets but as the technology becomes more cost effective it's impact will grow.
---
1:00 PM – 1:30 PM Boosting Automation and Productivity: Everything You Need to Know About APIs and Integration.
If your goal is to streamline internal processes and minimize wasted labor. In this session the panel explain how APIs enable new features in ERPs and legacy systems and discuss how businesses in the Fastener industry are leveraging new technology to work smarter. with speaker panelist: Lonni Kieffer, SmartCert by Aramid; Brandi Bertoia, INxSQL Software; and Brad Burel, Advance Components
---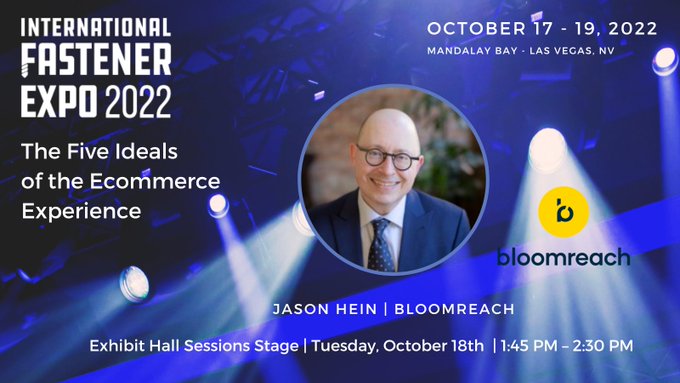 1:45 PM – 2:30 PM The Five Ideals of the Ecommerce Experience Hear from Speaker: Jason Hein, Bloomreach as he details how: The first 20 years of B2B e-commerce have primarily focused on one element: "standing up the store". As technologies have gotten easier to use, launching an e-commerce site has become almost standardized. "Out of the box" solutions and API-driven "headless" architecture have simplified the process of starting a B2B commerce website easier than it's ever been. But now what? It is no longer enough to simply *be* online when it's so easy for your competition to also "be" online. Simply existing isn't enough – companies have to raise the bar to offer a customer experience that stands out for B2B buyers.
---
Be sure to be at The IFE Hall of Fame, Young Fastener Professional Awards Ceremony will take place on Tuesday, October 18 | 3 – 4 PM | Sessions Stage
Join the Fastener Industry in congratulating this year's inductees of the prestigious IFE Hall of Fame and Young Fastener Professional awards, Congratulations to Young Fastener Professional of the Year, Bryan Wheeler of the Star Stainless Screw Co., and Fastener Hall of Famers: Andy Cohn, Duncan Bolt, Rick Rudolph Associates, Tim Malone, Spring Bolt and Nut Manufacturing, and Joseph Voltrauer, Volt Plastics.  The recipients will be recognized at the IFE Awards Ceremony at 3:00 PM on the expo floor at Sessions Stage.
---
BIG Shout out to all the 2022 IFE Exhibitors: Fastener News Desk's Best Booth Awards are BACK! We're on the expo scouting out the 2022 Best Booths! IFE is sponsoring the awesome Best Booth Awards from Trophy Smack! We're so excited to be BACK in-person, we plan to immortalize your hard-earned victory with a professional-grade championship belt.  This year the overall BEST BOOTH AWARD WINNER will claim the Best Booth Award's first ever customized Championship Belt. We can't wait to see your booth and creativity in Vegas!
Who will claim the BEST BOOTH AWARD title belt?
---
Wednesday, October 19
9:30 AM The IFE Expo Hall Opens
---
Educational Tracks begin at Sessions Stage:
9:45 AM – 10:15 AM       Five Key Considerations for Selecting a Fastener Manufacturer/Distributor
Speaker: Paul Przyby, Senior Vice President, Sales and Marketing, Optimas Solutions session will focus on what OEMs and distributors should be asking of their supply partners and how a tightly bound, cooperative relationship delivers supply chain confidence and assurance for each participant. Five Key Considerations for Selecting a Fastener Manufacturer/Distributor
Risk reduction
Inventory optimization
Elevating operations
Improving quality
Electrification and environmental considerations
Optimas Solutions Elevates Mike Tuffy and Daniel Harms to Dual-CEOs
---
10:30 AM – 11:00 AM    How Can Distributors Win the War Against Inflation? Speaker: Nelson Valderrama, Intuilize explains with Inflation is on the rise it can be difficult for businesses to keep up. In this session, he'll discuss the factors contributing to increased inflation and how to protect your margins in a volatile market. He'll explore best practices in pricing and cost pass through to defeat inflation and grow margins. Join Nelson for an informative session that will help you stay ahead of the curve!
---
11:15 AM – 12:00 PM    What's Working Best for Younger Generations? The Young Fastener Professionals Association invites you to join a panel program discussing the next generation. The panelists will dive into best practices for managing, motivating, and interacting with young employees and colleagues. There will be a moderated discussion, followed by time for questions. Moderator: Mallory Cravens Nichols, Advance Components and Panelists: Tim Vath, Solution Industries; George Hunt III, Brighton-Best International; Jake Glaser, Sherex Fastening Solutions
---
3:30 PM the IFE Expo 2022 Hall Officially Closes Until Next Year's International Fastener Expo will be October 9 – 11, 2023
---
Share your pics and get in the conversation using #IFE2022 in the Twitter feed @FastenerNews and on LinkedIn in the Fastener News Group!
If you would like to share your company's events, news or sponsor an upcoming episode of IN THE NEWS or would like to add to the Fastener Museum me: lisa@fastenernewsdesk.com.
---
Thanks for tuning in to this week's episode of IN THE NEWS with Fastener News Desk. Have a great time in Vegas!

Until next week, be well, be safe and Keep it Fastenating
---
RELATED CONTENT: