IN THE NEWS with Fastener News Desk the Week of October 3rd, 2022
hdfadmin
Here's what's happening in and around the fastener industry the Week of October 3rd, 2022

Listen now: (10:08)
Here's what's happening in and around the fastener industry…
In Fastener Acquisition News…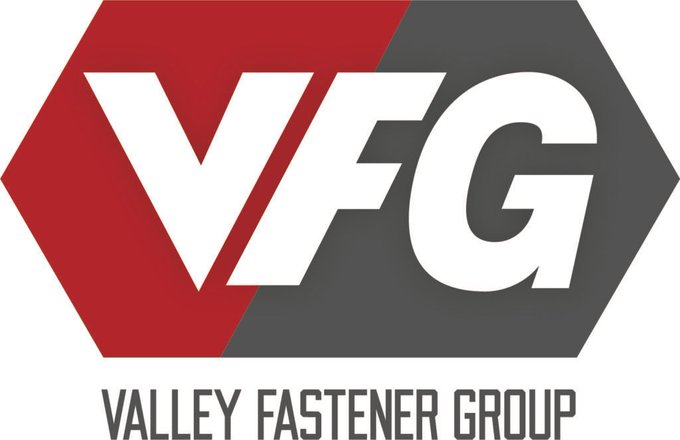 Valley Fastener Group announced the acquisition of TRAMEC Hill Fastener. For over 50 years TRAMEC has domestically produced cold formed parts such as specialty screws, bolts, studs & rivets.
---
In Fastener News…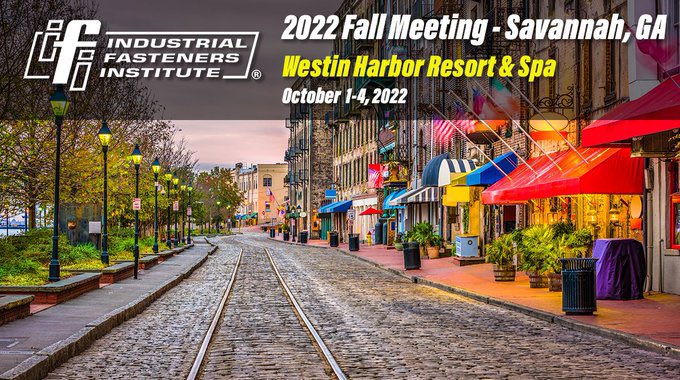 This week is the Industrial Fastener Institute's Fall Meeting in Savannah, Georgia. Be sure to use #IFIEducates and #IFIConnects in your posts. Follow them on Twitter @IFIConnects or online at https://indfast.org
---
We're 2 weeks away from the largest B2B expo for fasteners happening in Las Vegas October 17-19th!
The International Fastener Expo is Largest B2B expo of Industrial Fasteners and Tooling & Machinery in North America. Since 1981, the event continues to bring together the manufacturers and master distributors of fasteners and other related products and services with distributors and sales agents in the entire supply and distribution chain.
The International Fastener Expo just announced the 2022 recipients of the Fastener Hall of Fame and Young Professional of the Year awards. Congratulations to Young Fastener Professional of the Year, Bryan Wheeler of the Star Stainless Screw Co., and Fastener Hall of Famers: Andy Cohn, Duncan Bolt, Rick Rudolph Associates, Tim Malone, Spring Bolt and Nut Manufacturing, and Joseph Voltrauer, Volt Plastics.  The recipients will be recognized at the International Fastener Expo in Vegas. Join the IFE for the Awards Ceremony at 3:00 PM on October 18th on the expo floor at Sessions Stage to honor and recognize the award recipients.
Get registered today at FastenerShows.com! Use FND Discount Code: FND50 until 10/16.
---
In Manufacturing News…
In the Monday Economic Report from the National Association of Manufacturers' reports manufacturing value-added output increased to $2.768 trillion in the second quarter, an all-time high. Manufacturing accounted for 11.0% of value-added output in the U.S. economy in the second quarter, the highest percentage since the fourth quarter of 2019.
---
In Technology News…
Amazon Business released a new report: Amazon Business' 2022 State of Business Procurement. The new report highlights a number of trends including:
91% of B2B buyers state a preference for online purchasing.
58% of B2B buyers now make purchases that have to be delivered directly to an employee's personal residence, accommodating an increasingly distributed workforce as a result of the COVID-19 pandemic.
Read the full report:
---
In Fastener Event News…

This week is the Pac-West Fastener Association's' annual What's New? What's Next? Fall dinner program! Happening October 6th 5-8pm. Attendees will hear from Presenters, Jamie Lawrence of AVK, Tim Roberto Jr. of Star Stainless Screw, and Jun Xu of Brighton-Best International they will bring attendees up to date with what's new with stainless steel and carbon fasteners, along with what distributors can expect from suppliers in the future. Plus a Vendor Showcase.
---
📌 Manufacturing Day kick-offs the month-long celebration of MFG Day THIS Friday October 7th!
MFG Day is manufacturing's biggest annual opportunity to inspire the next generation to start careers in modern manufacturing through a series of focused events to promote manufacturing to students, parents, and educators. Plan to open your doors Oct. 7 or throughout the month of October! For more info go to MFGDay.com. Use #MFGday22 to share your MFGDay experience!
---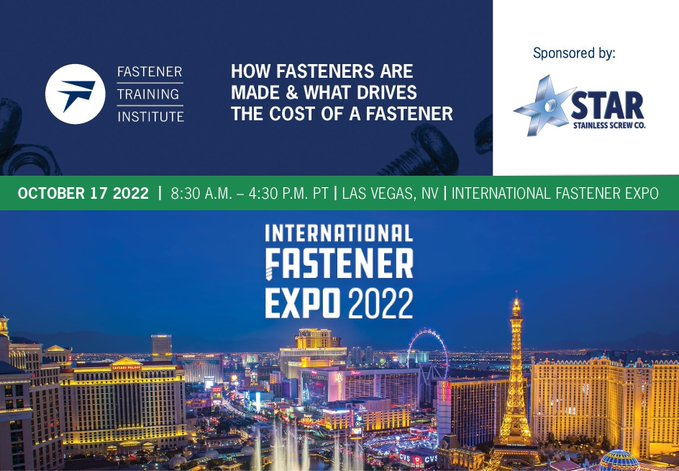 REGISTRATION IS OPEN FOR Fastener Training Institute's "How Fasteners are Made and What Drives the Cost of a Fastener" class that will take place at the International Fastener Expo. For Registration and more info go to: https://fastenershows.com/fti-class/
---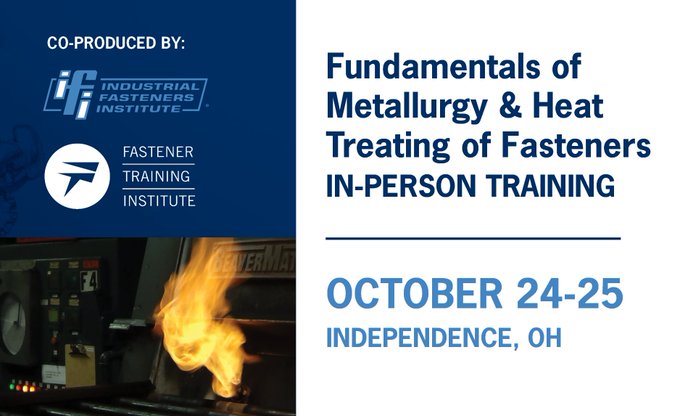 On October 24-25th The Fastener Training Institute and Industrial Fasteners Institute present an in-person, two full-day training opportunity on the fundamentals of fastener metallurgy and heat treatment. This class focuses primarily on steels. Participants will gain a better understanding of fundamental metallurgical concepts and how crystal structure, phase combinations, and alloying determine the properties exhibited by fasteners. Participants will then learn how we make transitions by heat treating to achieve more desired properties for the application. Get more info at FastenerTraining.org  
---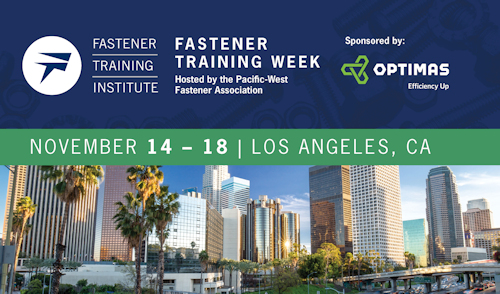 Fastener Training Week | LA | is happening Nov. 14-18, 2022. FTW offers 5 intensive days of education & plant tours as part of the acclaimed FTI Certified Fastener SpecialistTM (CFS) advanced technical training program. Sign up: FastenerTraining.org
---
Shout out to all IFE Exhibitors: Fastener News Desk's Best Booth Awards are returning to the 2022 International Fastener Expo! IFE will be sponsoring the Best Booth Awards from Trophy Smack! We're so excited to be BACK in-person, we plan to immortalize your hard-earned victory with a professional-grade championship belt.
This year the overall BEST BOOTH AWARD WINNER will claim the Best Booth Award's first ever customized Championship Belt. We can't wait to see your booth and creativity in Vegas!
Who will claim the BEST BOOTH WARD title belt?
GET REGISTERED USING THE FND Discount Code: FND50
---
The International Fastener Expo will FEATURE Keynote Speaker, Dirk Beveridge. Dirk is a visionary entrepreneur and the founder of UnleashWD. Dirk has authored four books including the bestselling INNOVATE! How Successful Distributors Lead Change In Disruptive Times.
Dirk recently published a NEW Report: The State of Leadership Throughout Distribution. Over 200 executives provided an unprecedented look into how the nature of leadership is changing in distribution. Get details on how to download this new, landmark call-to-action report at Fastener News Desk
---
The stories featured in this week's episode of IN THE NEWS can be found at Fastener News Desk or in our Twitter feed @FastenerNews and on LinkedIn in the Fastener News Group!
---
Industrial products are comprehensive and purchasing them online can lead to poor customer experiences when utilizing filtered search. The Product Genius's grid technology allows your clients to search, sort and purchase 100's of products from a one-page buying experience. Experience and Demo FAST Fastener buying at 1-800-Fasteners.com.
PGT's services also include, data cleaning and preparation, consulting, and strategizing. Contact ProductGeniusTechnology.com or call 1-800-fasteners to find out how to get started today.
---
If you would like to share your company's events, news or sponsor an upcoming episode of IN THE NEWS or would like to add to the Fastener Museum me: lisa@fastenernewsdesk.com.
---
Thanks for tuning in to this week's episode of IN THE NEWS with Fastener News Desk.

Until next week, be well, be safe and Keep it Fastenating.
---
RELATED CONTENT: 
IN THE NEWS with Fastener News Desk the Week of September 26th, 2022
Fastener Association, Fastener Expo, Fastener Hall of Fame, Fastener News, Fastener TV