IN THE NEWS with Fastener News Desk the Week of September 26th, 2022
hdfadmin
Here's what's happening in and around the fastener industry the Week of September 26th, 2022
Watch now: (11:17)
---
The International Fastener Expo announced the 2022 recipients of the Fastener Hall of Fame and Young Professional of the Year awards. Congratulations to all the awardees.
The recipients will be recognized at a special event during the International Fastener Expo next month in Vegas. Join the IFE for the Awards Ceremony at 3:00 PM on October 18th on the expo floor to honor and recognize the award recipients. Check out the awardees featured at Fastener News Desk.
---
We're less than 3 weeks away from the largest B2B expo for fasteners happening in Las Vegas October 17-19th!
The International Fastener Expo is Largest B2B expo of Industrial Fasteners and Tooling & Machinery in North America. Since 1981, the event continues to bring together the manufacturers and master distributors of fasteners and other related products and services with distributors and sales agents in the entire supply and distribution chain.
IFE Exhibitors! With more than 350 companies already registered, space is running out to exhibit at this year's expo. Don't miss your opportunity to make an impact at the largest B2B expo for #fasteners!
Go to FastenerShows.com to reserve your space today!
---
In other Fastener News…
Listen up ThreadHeads and Fastenerds! Fully Threaded Radio Episode #180 – Trainageddon? is LIVE!  
Has tragedy been narrowly averted or is the supply disruption train still racing down the track, set to impact business across the country? Scanwell Logistics freight forwarding expert Chris Donnell shares his view. Tune in at FullyThreaded.com.
Episode #181 is scheduled for release on 10/22/2022
---
Fastener people in the news: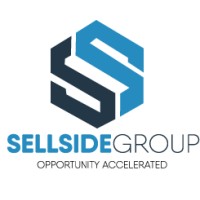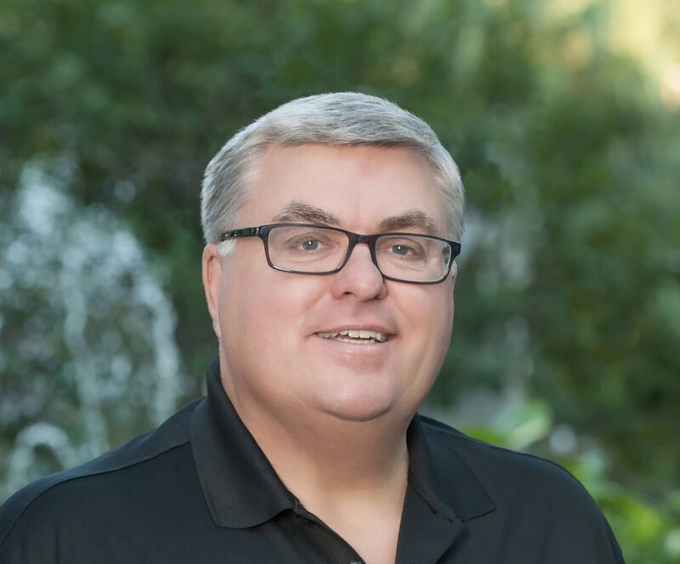 Marc Strandquist has joined Sellside Group, LLC as Managing Director. Marc has over 35 years of experience in the C-Parts industry as a global executive leader. Mr. Strandquist has 24 years holding C-Suite positions at 5 industrial distribution and manufacturing organizations where he created value for multi- billion-dollar parent organizations. He began his C- Suite career with smaller companies with sales of $40 to $50 million dollars in sales before transitioning to Würth Industry North America with sales of $850m then to Optimas Solutions with sales of $650m.
As a member of the Sellside Group team, Marc will provide Industrial distribution and manufacturing senior leadership, assistance with: Strategic planning, Driving revenue and portfolio profit growth.
---
In Distribution Technology News…
MDM's SHIFT Distribution event in CO got underway on Sunday and runs through Tuesday the 27th.. The SHIFT event is bringing the best minds in distribution together — across sales, digital and data analytics transformation — to share ideas and network to build your organization of the future. The agenda includes main stage sessions on transformational strategy, change management and case studies shared by highly successful distribution leaders who have guided teams — small, medium and very large — forward.
---
In Fastener Event News…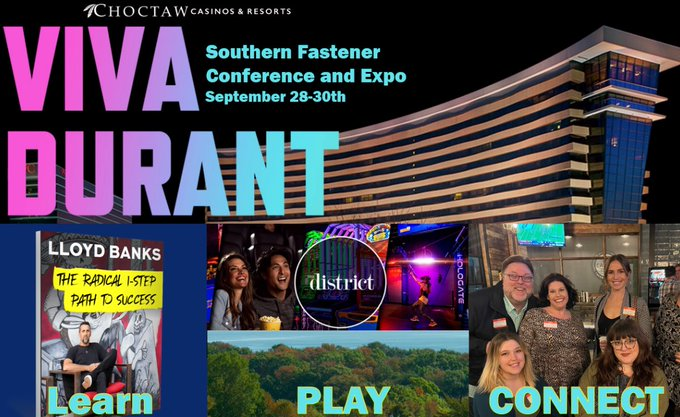 Join the Southwestern Fastener Association for the Southern Fastener Conference and Expo taking place in Durant, OK Sept. 28th-30th. Get more info at https://www.southwesternfastener.org/
---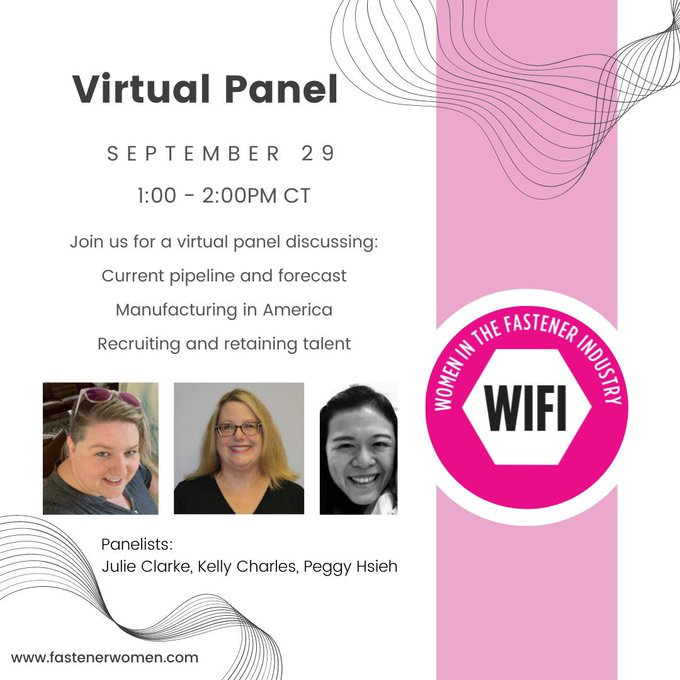 September 29th join Women in the Fastener Industry for a live online webinar panel discussion, covering Current pipeline and forecast, manufacturing in America, and recruiting and retaining talent in the fastener industry. Contact FastenerWomen.com for Zoom registration information.
---

It's time for the Pac-West Fastener Association's annual What's New? What's Next? Fall dinner program! Happening October 6th 5-8pm. Attendees will hear from Presenters, Jamie Lawrence of AVK, Tim Roberto Jr. of Star Stainless Screw, and Jun Xu of Brighton-Best International will bring us up to date with what's new with stainless steel and carbon fasteners, along with what we can expect from our suppliers in the future and a Vendor Showcase. 
---
📌 The month-long celebration of MFG Day kick-offs on Friday October 7th!
MFG Day is manufacturing's biggest annual opportunity to inspire the next generation to start careers in modern manufacturing through a series of focused events to promote manufacturing to students, parents, and educators. Plan to open your doors Oct. 7 or throughout the month of October!
Get a helpful resource guide, toolkit, and all you need to get started planning your Manufacturing Day event at MFGDay.com Use #MFGday22 to share your event!
---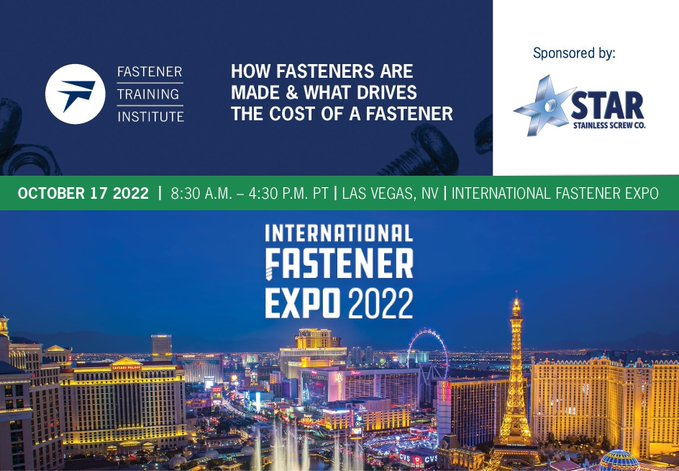 REGISTRATION IS OPEN FOR Fastener Training Institute's "How Fasteners are Made and What Drives the Cost of a Fastener" Class that will take place at the International Fastener Expo. Register before October 3 and save with the early bird rate! See details and sign up:: https://fastenershows.com/fti-class/
---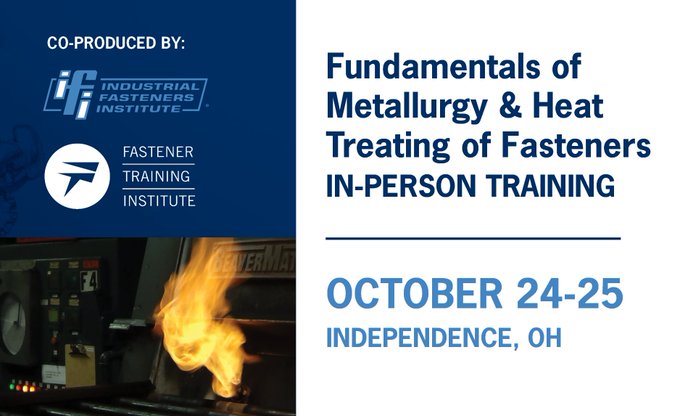 October 24-25th The Fastener Training Institute and Industrial Fasteners Institute present an in-person, two full-day training opportunity on the fundamentals of fastener metallurgy and heat treatment. This class focuses primarily on steels. Participants will gain a better understanding of fundamental metallurgical concepts and how crystal structure, phase combinations, and alloying determine the properties exhibited by fasteners. Participants will then learn how we make transitions by heat treating to achieve more desired properties for the application. Get more info at FastenerTraining.org  
---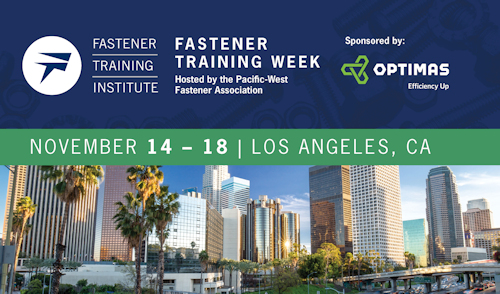 Fastener Training Week | LA | is scheduled for Nov. 14-18, 2022. FTW offers 5 intensive days of education & plant tours as part of the acclaimed FTI Certified Fastener SpecialistTM (CFS) advanced technical training program. Sign up: FastenerTraining.org
---
IFE Exhibitors It's Game On: Fastener News Desk's Best Booth Awards return to the 2022 International Fastener Expo! IFE will be sponsoring the Best Booth Awards from Mark Cuban's Shark Tank investment business, Trophy Smack! We're so excited to be BACK in-person, we plan to immortalize your hard-earned victory with a professional-grade championship belt. This year the overall BEST BOOTH AWARD WINNER will claim the Best Booth Award's first ever customized Championship Belt. We can't wait to see your creativity this October in Vegas! Who will claim the title?
Go to https://fastenershows.com to book your space today!
GET REGISTERED USING THE FND Discount Code: FND50
---
The International Fastener Expo will FEATURE Keynote Speaker, Dirk Beveridge. Dirk is a visionary entrepreneur and the founder of UnleashWD. Dirk has authored four books including the bestselling INNOVATE! How Successful Distributors Lead Change In Disruptive Times.
Dirk recently published a NEW Report: The State of Leadership Throughout Distribution. Over 200 executives provided an unprecedented look into how the nature of leadership is changing in distribution. Get details on how to download this new, landmark call-to-action report at Fastener News Desk
---
The stories featured in this week's episode of IN THE NEWS can be found at Fastener News Desk or in our Twitter feed @FastenerNews and on LinkedIn in the Fastener News Group!
---
Industrial products are comprehensive and purchasing them online can lead to poor customer experiences when utilizing faceted (filtered) search. The Product Genius's grid technology allows your clients to search, sort and purchase 100's of products from a one-page buying experience. Experience and Demo FAST Fastener buying at 1-800-Fasteners.com.
PGT's services also include, data cleaning and preparation, consulting, and strategizing. Contact ProductGeniusTechnology.com or call 1-800-fasteners to find out how to get started today.
---
If you would like to share your company's events, news or sponsor an upcoming episode of IN THE NEWS or would like to add to the Fastener Museum me: lisa@fastenernewsdesk.com.
---
Thanks for tuning in to this week's episode of IN THE NEWS with Fastener News Desk.

Until next week, be well, be safe and Keep it Fastenating.
---
RELATED CONTENT: 
2022 We Supply America Tour Launches in May to Keep Telling Distributors' Stories
IN THE NEWS with Fastener News Desk the Week of September 19th, 2022