Make Connections at IFE 2022
hdfadmin
The International Fastener Expo will get underway in less than 30 days. Held annually in Las Vegas, Nevada, USA, the event consists of an all-day conference program presented by endorsing fastener associations and a expo floor with hundreds of exhibitors from around the world. Each year, thousands of attendees from 30+ countries travel to North America's #1 trade show city, Las Vegas, Nevada to network and do business with hundreds of suppliers showcasing every type of fastener for several industries including construction, aerospace, military, electrical, and automotive. This is the trade show where all types of distributors come to network, see clients, build new relationships, and find new products.
The fastener industry has continued steady growth even through the pandemic. The global industrial fasteners market has reached a valuation of US$ 102.8 billion in 2022 and is forecast to progress at a steady CAGR of 5.1% to reach US$ 168.7 billion by the end of 2032 according to a recent industrial fasteners market outlook study.
In a recent report from from McKinsey, eCommerce growth accelerated by 10 years during the first three months of 2020 alone! B2B customer expectations have changed as a result of the pandemic, today's distributors must rise to the occasion of transforming brick and mortar type business models into digitally driven distributorships in order to survive the advancements in supply chain technology. Fastener manufacturers and distributors are rapidly adopting to ecommerce platforms for several reasons including: revenue growth, better customer experiences, and overall improved efficiency in their operations. 
This year the International Fastener Expo has put together thoughtfully crafted programs and speakers that will help distributors get some foundational guidance on how to keep your business relevant, up-to-date, and transforming to meet the needs of today's B2B buyers. Learn how leading B2B distribution and manufacturing companies are transforming their business to a more digitally driven distribution business model with eCommerce capabilities that focus strongly on customer experiences. 
IFE attendees you won't want to miss the opportunity to join IFE and fellow members of the fastener industry for some friendly competition on the golf course at the IFE Annual Golf Tournament. Is there a better place to drive business than on the course? Well now that you mentioned it, how about the always well attended IFE Welcome Reception Party at the Daylight Pool at the Mandalay Bay where hundreds of fastener industry professionals gather for drinks and probably the most laid back few hours of the expo! Make sure to mark your calendars for the IFE Fastener Hall of Fame and Young Fastener Professional of the Year Award Ceremony that takes place at Sessions Stage on the expo floor! 
Make the Most of Your Time at IFE!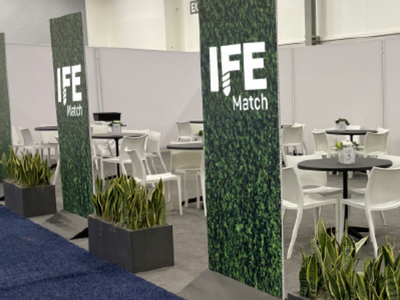 IFE Match brings attendees and exhibitors a NEW, "smart" way of connecting with their peers, building business opportunities, exploring educational sessions, building your itinerary and more – all from your computer or mobile device before you even step foot on the expo floor! 
ATTENDEES IFE Match will be available to attendees on September 29th. Registered attendees will receive an email with their login credentials when the platform is available.
EXHIBITORS Download the app in the Apple or Google Play store or open the website platform here. Access your login credentials from your welcome email or in the exhibitor console. Update your individual and company profiles, plan your schedule, and start connecting! Review the Exhibitor Training Video
---
---
IFE Exhibitors, It's Game On! The Fastener News Desk Best Booth Awards return to the 2022 International Fastener Expo! IFE will be sponsoring the Best Booth Awards provided by Trophy Smack! We're so excited to be BACK in-person, we plan to immortalize your hard-earned victory with a professional-grade championship belt. This year the overall BEST BOOTH AWARD WINNER will claim the Best Booth Award's first ever customized Championship Belt. We can't wait to see your creativity this October in Vegas! Who will claim the title?
---
The Industry excitement for the 2022 International Fastener Expo is building on social media. It's great to see the fastener industry's enthusiasm and eagerness to get back to in-person events. For most of the industry this will be the biggest networking opportunity since 2019. 
Here's some of the digital fastener buzz on LinkedIn and Twitter: 

We're one month away from #IFE2022! Visit Groov-Pin at Booth #1240 at the @FastenerShow in Las Vegas on October 18th & 19th: https://t.co/71vVhjSpwc pic.twitter.com/3CiIDOsfoa

— Groov-Pin (@GroovPinCorp) September 20, 2022
Don't miss us next month at the IFE Expo (@FastenerShow) in Las Vegas, October 17th-19th! Visit us at Booth 2023 to see our OptiTech work its magic in person. We look forward to seeing you at the expo and interacting with you on social! #IFE2022 #fasteners #events #efficiencyup pic.twitter.com/VWu8L75pvU

— Optimas Solutions (@Optimas_S) September 14, 2022
The International Fastener Expo is coming up! While you're there, stop by our booth to chat + enter to win a YETI cooler. See you in Vegas! #IFE2022 https://t.co/ukR6Z4hyTL pic.twitter.com/2isyNTiUz0

— Plex Systems (@PlexSystems) September 20, 2022
Who's heading to @FastenerShow in Vegas next month? We are! #IFE2022 #FastenerExpo pic.twitter.com/yLvxKElr8x

— BTM Manufacturing – Domestic Fastener Manufacturer (@BTMMfg) September 19, 2022
---
IFE 2022 attendees make sure to mark your calendars to experience the outstanding lineup of educational sessions and the International Fastener Expo, Keynote Speaker: Dirk Beveridge
---
Monday, October 17
8:30 AM – 4:30 PM
How Fasteners are Made and What Drives the Cost of a Fastener
Laurence Claus, NNi Training and Consulting, Inc.
In this all-day class presented by the Fastener Training Institute, fastener expert Laurence Claus takes participants into the fastener manufacturing world and explores why the often under-appreciated components are complex engineering marvels. Participants will gain a basic understanding of the different methods of producing fasteners: cold heading, hot heading and screw machining. Students will learn the advantages and disadvantages of each manufacturing method plus delve into many of the other steps, such as thread rolling, grinding, machining, heat treating and plating that the average fastener may undergo. Students will learn how each of these different processes, as well as raw material and customer expectations, drive what may appear to be a routine run-of-the-mill fastener into a value-added powerhouse of a component. Participants will recognize the cost drivers of value-added products, gain practical fastener knowledge and increase their professional value.
Registration required, Register Here
Tuesday, October 18
8:30 AM – 9:30 AM
Keynote Presentation: INNOVATE! How to Create Relevancy in the Age of Disruption –Dirk Beveridge, Founder UnleashWD
85% of distribution leaders believe that they must reinvent their business before someone else does. As you continue to operate the business today, how can you unleash the spirit of innovation to build a relevant, stronger, and more profitable future? The answer will become apparent throughout Dirk's inspiring and informative presentation as he introduces the five elements of The Innovative Distributor™️.
In this keynote presentation, UnleashWD Founder, Dirk Beveridge will examine:
Construct a vision that becomes a unifying force for change
Develop a culture of innovation and excellence
Distinguish your business through an innovative value proposition
Examine your business model relevance
Identify your leadership readiness along the spectrum of distributors
---
Tuesday, October 18
10:00 AM – 10:30 AM
Aerospace Fasteners – Presented by the Fastener Training Institute®
Laurence Claus, NNi Training and Consulting, Inc.
In this presentation, Mr. Claus will explore how requirements for aerospace fasteners set them apart from other fastener market segments. Mr. Claus will introduce some of the fastening technology unique to aerospace fasteners. He will introduce different categories of aerospace fasteners including Pin and Collar fasteners, Blind bolts and rivets, Solid Rivets, Inserts, Nut Plates, Wrenchable Nuts, Bolts and Screws, and Honeycomb Fasteners. Mr. Claus will also briefly explain what systems and credentials an aerospace fastener supplier must possess.
Tuesday, October 18
10:45 AM – 11:30 AM
Why 3D Printing Will Have An Impact On Fasteners
AJ Strandquist, Würth Additive Group
3D printing presents obstacles and opportunities in the world of fasteners, both their consumption and production. It's happening already in some upscale markets but as the technology becomes more cost effective it's impact will grow.
---
Tuesday, October 18
1:00 PM – 1:30 PM
Boosting Automation and Productivity: Everything You Need to Know About APIs and Integration
Lonni Kieffer, SmartCert by Aramid; Brandi Bertoia, INxSQL Software; Brad Burel, Advance Components
Your goal is to streamline internal processes and minimize wasted labor. In this session, we'll explain how APIs enable new features in ERPs and legacy systems and discuss how businesses in the Fastener industry are leveraging new technology to work smarter.
---
Tuesday, October 18
1:45 PM – 2:30 PM
The 5 Ideals of the Ecommerce Experience
Jason Hein, Bloomreach
The first 20 years of B2B e-commerce have primarily focused on one element: "standing up the store". As technologies have gotten easier to use, launching an e-commerce site has become almost standardized. "Out of the box" solutions and API-driven "headless" architecture have simplified the process of starting a B2B commerce website easier than it's ever been. But now what? It is no longer enough to simply *be* online when it's so easy for your competition to also "be" online. Simply existing isn't enough – companies have to raise the bar to offer a customer experience that stands out for buyers. But what does it mean to improve the way customers experience an e-commerce site? In this session, attendees will learn a simple set of tools that anyone can use to objectively evaluate how customers assess a website's commerce experience and systematically set objectives to identify and prioritize the work needed to build a site that can compete not by being the cheapest, not by being the biggest, but by being the easiest for customers to do business with.
---
Wednesday, October 19
10:30 AM – 11:00 AM
How Can Distributors Win the War Against Inflation?
Nelson Valderrama, Intuilize
Inflation is on the rise and it can be difficult for businesses to keep up. In this session, we'll discuss the factors contributing to increased inflation and how to protect your margins in a volatile market. We'll also explore best practices in pricing and cost pass through to defeat inflation and grow margins. So join us for an informative session that will help you stay ahead of the curve!
---
Wednesday, October 19
11:15 AM – 12:00 PM
What's Working Best for Younger Generations?
Presented and Moderated by YFP
Moderator: Mallory Cravens Nichols, Advance Components
Panelists: Tim Vath, Solution Industries; George Hunt III, Brighton-Best International; Melissa Patel, Field Fastener
YFP invites you to join a panel program discussing the next generation. Our panelists will dive into best practices for managing, motivating, and interacting with young employees and colleagues. There will be a moderated discussion, followed by time for questions.
---
SEE YOU IN VEGAS! FND will be on the floor looking for the BEST BOOTH AWARD Winners!
---
RELATED CONTENT: