IN THE NEWS with Fastener News Desk the Week of September 12th, 2022
hdfadmin
---
Here's what's happening in and around the fastener industry this week…
Listen to this weeks episode now: (10:22)
---
The International Manufacturing Technology Show (IMTS) began in Chicago today and will run through the 17th!
---

The Pac-West Fastener Association's 2022 Fall Conference kick-offs on September 14th-17th in Denver, CO. Go to www.pac-west.org
---
In Fastener News…
The August seasonally adjusted Fastener Distributor Index (FDI) bounced back nicely from last month's sub-50 reading, increasing back into expansionary territory at 52.6. This was consistent with a still very positive FLI reading last month. Demand commentary seemed to suggest further slowing ahead is likely, however, with commentary noting customers are pushing out deliveries and trying to preserve cash in some cases. Pricing remained fairly stable with last month and still at elevated levels. Looking forward, the Forward-Looking Indicator (FLI) retracted to just 47.4, however, as respondents remain overall cautious.
---
ThreadHeads and Fastenerds don't miss the Fully Threaded Radio Special Report from the MWFA FSTNR Week '22. Here all about this year's tabletop show, golf tournament and lead up events! Get the lowdown at FullyThreaded.com. Episode 180 is scheduled to drop this week!!!
---
Bulten has been nominated as a supplier of fasteners for a new global electric vehicle (EV) platform, to be produced in China. The order value is estimated at approximately SEK 155 million Swedish krona per year at full production. Bulten Group is a leading global manufacturer and supplier of fasteners to the automotive industry, as well as other industries such as consumer electronics.
---
In Fastener Acquisition News…
Big Bolt, LLC ("Big Bolt"), one of the largest specialty fastener manufacturers in the US, announced it has acquired Delta Secondary, LLC.
---
Supply Chains will get another monkey-wrench thrown their way as… US freight railroads will reduce service effective today ahead of a possible strike on Sept. 16 after the country's two largest rail unions failed to agree on a new contract this week. The developments were confirmed in a statement from the Association of American Railroads. The five US Class I railroads, along with more than 30 regional and short-line railroads, began notifying customers on Friday about the service cuts because they don't want to leave hazardous materials or expensive cargo abandoned on trains across the US, if labor were to walk off the job.
---
If you haven't already done so, it's time to register for the 41st edition of the International Fastener Expo, which will take place in Las Vegas October 17-19th.
The International Fastener Expo is Largest B2B expo of Industrial Fasteners and Tooling & Machinery in North America. Since 1981, the event continues to bring together the manufacturers and master distributors of fasteners and other related products and services with distributors and sales agents in the entire supply and distribution chain.
IFE Exhibitors! With more than 300 companies already registered, space is running out to exhibit at this year's expo. Don't miss your opportunity to make an impact at the largest B2B expo for #fasteners!
Go to https://fastenershows.com to book your space today!
GET REGISTERED USING THE FND Discount Code: FND50
---
The International Fastener Expo will FEATURE Keynote Speaker. Dirk Beveridge at IFE 2022. Dirk is a visionary entrepreneur and the founder of UnleashWD. Dirk has authored four books including the bestselling INNOVATE! How Successful Distributors Lead Change In Disruptive Times.
Dirk recently published a NEW Report: The State of Leadership Throughout Distribution. Over 200 executives provided an unprecedented look into how the nature of leadership is changing in distribution. Get details on how to download the new, landmark call-to-action report now!
You won't want to miss Dirk Beveridge your IFE 2022 keynote speaker. GET REGISTERED USING THE FND Discount Code: FND50
---
IFE Exhibitors It's Game On: The Fastener News Desk Best Booth Awards return to the 2022 International Fastener Expo! IFE will be sponsoring the Best Booth Awards (that are pretty dang cool) from Trophy Smack! We're so excited to be BACK in-person, we plan to immortalize your hard-earned victory with a professional-grade championship belt. This year the overall BEST BOOTH AWARD WINNER will claim the Best Booth Award's first ever customized Championship Belt. We can't wait to see your creativity this October in Vegas! Who will claim the title?
---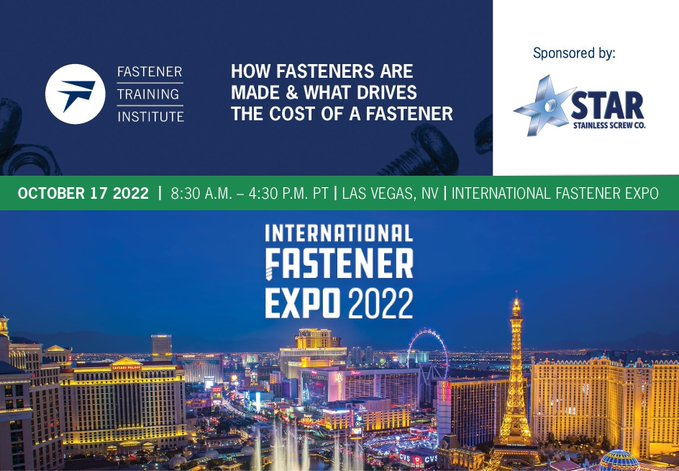 REGISTRATION IS ALSO OPEN FOR Fastener Training Institute's "How Fasteners are Made and What Drives the Cost of a Fastener" CLASS that will take place at the International Fastener Expo. For Registration and more info go to: https://fastenershows.com/fti-class/
---
In Manufacturing News…
📌 Manufacturing Day is weeks away! This year the month-long celebration of MFG Day 2022 will kick-off on Friday October 7th!
MFG Day is manufacturing's biggest annual opportunity to inspire the next generation to start careers in modern manufacturing through a series of focused events to promote manufacturing to students, parents, and educators. Plan to open your doors Oct. 7 or throughout the month of October!
Get a helpful resource guide, toolkit, and all you need to get started planning your Manufacturing Day event at MFGDay.com Use #MFGday22 to share your event!
---
In Fastener Event News …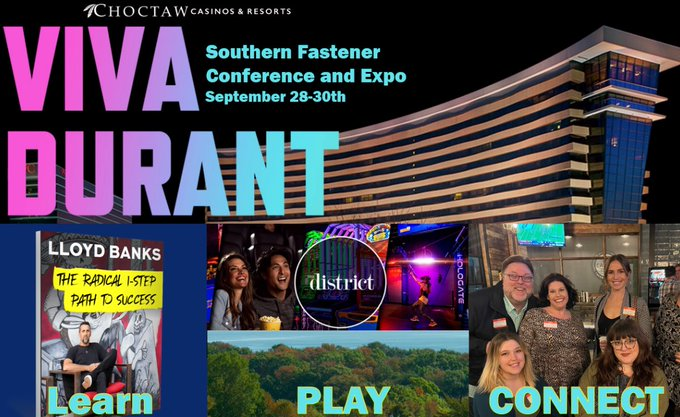 Join the Southwestern Fastener Association for the Southern Fastener Conference and Expo taking place in Durant, OK Sept. 28th-30th. Get more info at https://www.southwesternfastener.org/
---
The stories featured in this week's episode of IN THE NEWS can be found at Fastener News Desk or in our Twitter feed @FastenerNews and on LinkedIn in the Fastener News Group!
---
Industrial products are comprehensive and purchasing them online can lead to poor customer experiences when utilizing filtered search.
The Product Genius' product grid technology allows your clients to search, sort and purchase 100's of products from a one-page buying experience.
Experience and Demo FAST Fastener buying at
---
If you would like to share your company's events, news or sponsor an upcoming episode of IN THE NEWS or would like to add to the Fastener Museum me: lisa@fastenernewsdesk.com.
---
Thanks for tuning in to this week's episode of IN THE NEWS with Fastener News Desk.

Until next week, be well, be safe and Keep it Fastenating.
---
RELATED CONTENT:
IN THE NEWS with Fastener News Desk the Week of September 6th, 2022
IN THE NEWS with Fastener News Desk the Week of August 29th, 2022