IN THE NEWS with Fastener News Desk the Week of August 29th, 2022
hdfadmin

In Fastener News…
Watch Now: (8:33)
---
The Midwest Fastener Association has wrapped up another successful FSTNR WEEK!
---
Würth Industry North America, the leading industrial distributor of supply chain solutions for fasteners, MRO, and safety equipment, reported record, double-digit revenue growth through July, seeing an increase of 16.5% compared to the previous year. Despite ongoing supply chain challenges and an unstable economic situation, the company was able to carry its growth momentum from 2021 and is on track to report the largest annual sales volume in its 26-year history. Read the full release featured at Fastener News Desk.
---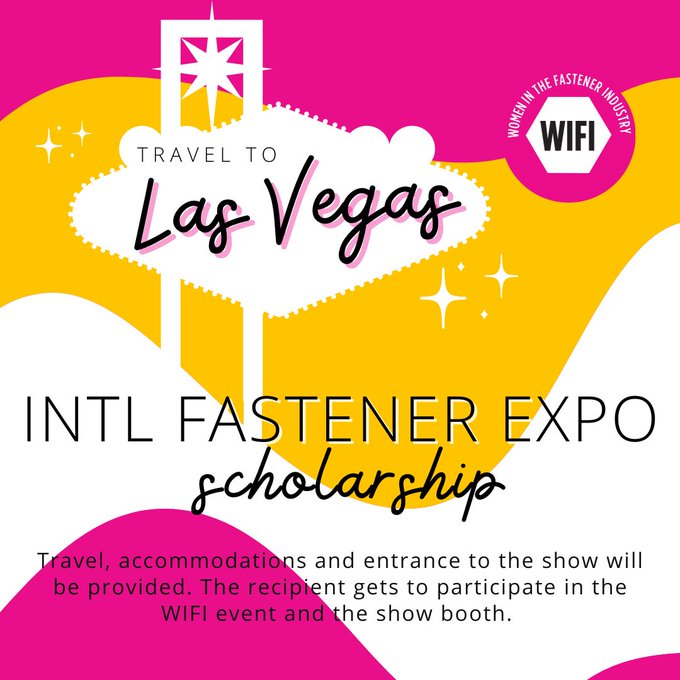 ATTN: Fastener Women!  The WIFI Edith Cameron Scholarship for the International Fastener Expo is open.  Women in the Fastener Industry honor the memory of Edith Cameron who was/is a pioneer in the fastener industry for 55 years. She was a trailblazer in the fastener industry for many years, and she was inducted into the Fastener Hall of Fame in 1993. She encouraged many women to excel in their careers in the fastener business. The recipient of the WIFI Scholarship will receive financial assistance for travel, accommodations & entry to the expo. Go to FastenerWomen.com to Apply today! Deadline: 8-31-2022.
---
It's time to get registered for the 41st edition of the International Fastener Expo, which will take place in Las Vegas October 17-19th.
The International Fastener Expo is Largest B2B expo of Industrial Fasteners and Tooling & Machinery in North America. Since 1981, the event continues to bring together the manufacturers and master distributors of fasteners and other related products and services with distributors and sales agents in the entire supply and distribution chain.
IFE Exhibitors! With more than 300 companies already registered, space is running out to exhibit at this year's expo. Don't miss your opportunity to make an impact at the largest B2B expo for #fasteners! Go to Fastenershows.com to book your space today!
IFE Exhibitors It's Game On: The Fastener News Desk Best Booth Awards return to the 2022 International Fastener Expo! IFE will be sponsoring the Best Booth Awards (that are pretty dang cool) from Trophy Smack! We're so excited to be BACK in-person, we plan to immortalize your hard-earned victory with a professional-grade championship belt. This year the overall BEST BOOTH AWARD WINNER will claim the Best Booth Award's first ever customized Championship Belt. We can't wait to see your creativity this October in Vegas!
Go to Fastenershows.com to book your space today!
GET REGISTERED USING THE FND Discount Code: FND50
The International Fastener Expo has added a Keynote Speaker. Dirk Beveridge will keynote IFE 2022. Dirk is a visionary entrepreneur and the founder of UnleashWD. Dirk has authored four books including the bestselling INNOVATE! How Successful Distributors Lead Change In Disruptive Times.
Dirk Beveridge is a leading advocate of change and innovation. As one of the country's most outstanding speakers, he delivers a new voice, a new energy, and a new outlook. Dirk's presentations are unparalleled. He delivers original, proven, and often disruptive thinking.
You won't want to miss the keynote session. Register now at FastenerShows.com use the FND discount code: FND50
---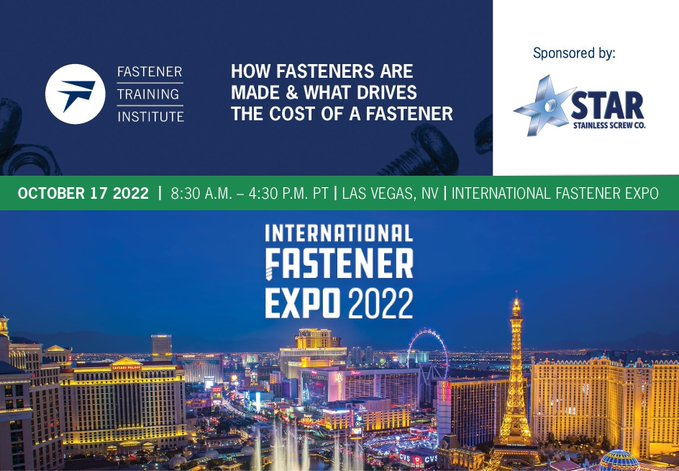 REGISTRATION IS OPEN FOR Fastener Training Institute's "How Fasteners are Made and What Drives the Cost of a Fastener" CLASS that will take place at the International Fastener Expo. For Registration and more info go to: https://fastenershows.com/fti-class/
---
In Manufacturing News…
📌 Manufacturing Day is right around the corner! This year the month-long celebration of MFG Day 2022 will kick-off on Friday October 7th!
MFG Day is manufacturing's biggest annual opportunity to inspire the next generation to start careers in modern manufacturing through a series of focused events to promote manufacturing to students, parents, and educators. Plan to open your doors Oct. 7 or throughout the month of October!
Get a helpful resource guide, toolkit, and all you need to get started planning your Manufacturing Day event at MFGDay.com Use #MFGday22 to share your event!
---
In Fastener Event News …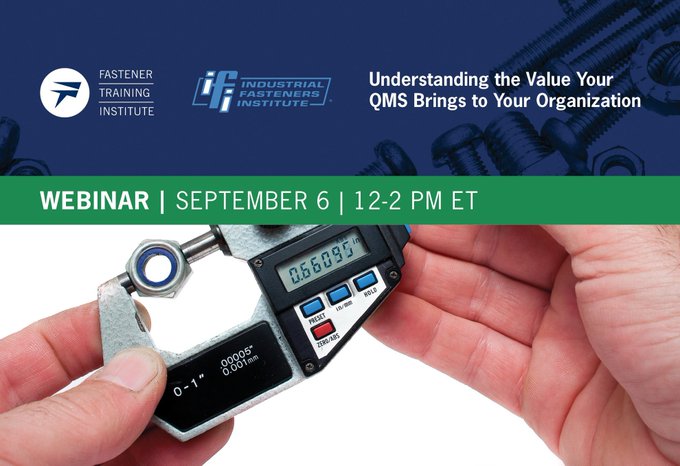 Tuesday, September 6th is a NEW WEBINAR from the Fastener Training Institute: Understanding the Value Your QMS Brings to Your Organization. LIVE, TWO-HOUR ONLINE TRAINING, Co-Produced by Industrial Fasteners Institute. Go to FastenerTraining.com to register.
---
Grab your clubs and join the North Coast Fastener Association and industry friends for a fun day of golf at the NCFA Screw Open Golf Outing on Thursday, September 8th. This event is open to everyone! Go to NCFAonline.com to register today!
---

Pac-West Fastener Association 2022 Fall Conference. September 14th-17th in Denver, CO. Registration is now open go to pac-west.org
---
The stories featured in this week's episode of IN THE NEWS can be found at Fastener News Desk or in our Twitter feed @FastenerNews and on LinkedIn in the Fastener News Group!
---
Industrial products are comprehensive and purchasing them online can lead to poor customer experiences when utilizing faceted search. The Product Genius's grid technology allows clients to search, sort and purchase 100's of products from a one-page buying experience. Experience and Demo FAST Fastener buying at 1-800-Fasteners.com.
PGT's services also include, data cleaning and preparation, consulting, and strategizing. Contact ProductGeniusTechnology.com or call 1-800-fasteners to find out how to get started today.
---
If you would like to share your company's events, news or sponsor an upcoming episode of IN THE NEWS or would like to add to the Fastener Museum me: lisa@fastenernewsdesk.com.
---
Thanks for tuning in to this week's episode of IN THE NEWS with Fastener News Desk.

Until next week, be well, be safe and Keep it Fastenating.
---
RELATED CONTENT: 
IN THE NEWS with Fastener News Desk the Week of August 22nd, 2022
IN THE NEWS with Fastener News Desk the Week of August 15th, 2022