IN THE NEWS with Fastener News Desk the Week of August 8th, 2022
hdfadmin

In Fastener News…
ANOTHER BIG ANNOUNCEMENT IN FASTENER BUSINESS ACQUISITIONS…
Watch now: (9:16)
---
MSC INDUSTRIAL SUPPLY CO. a premier distributor of Metalworking and Maintenance, Repair and Operations supplies to industrial customers throughout North America announced that it has acquired Tower Fasteners, a Holtsville, New York-based valued-added distributor of Original Equipment Manufacturer (OEM) fasteners and components.
---
The International Fastener Expo Had Big Announcement too! For the first time in the history of the expo there will be Keynote Speaker. IFE introduced Dirk Beveridge as their IFE 2022 Keynote: Dirk is a visionary entrepreneur and the founder of UnleashWD. With his one-of-a-kind perspective on the future of wholesale distribution, Dirk has been leading major change for over 35 years to advance growth, relevance, and transformation. 
In 2021 Dirk produced the We Supply America tour including an eight-film docuseries highlighting and championing the noble calling of distribution. Dirk has authored four books including the bestselling INNOVATE! How Successful Distributors Lead Change In Disruptive Times.
Dirk Beveridge is a leading advocate of change and innovation. As one of the country's most outstanding speakers, he delivers a new voice, a new energy, and a new outlook. Dirk's presentations are unparalleled. He delivers original, proven, and often disruptive thinking.
You won't want to miss the keynote session. Register now at FastenerShows.com with the FND discount code: FND50
---
Listen Up ThreadHeads and Fastenerds🎙@FullyThreaded Radio Episode 178 (Thread Pilled) is LIVE!
Strong sales and ongoing #supplychain challenges remain the top themes as the fastener industry keeps its optimism heading into a 🌞 hot summer. Check out the full episode at http://FullyThreaded.com
---
SPIROL recently launched their new and improved corporate website: SPIROL.com. The new corporate website is a culmination of over 74 years of engineering knowledge and experience in the fastening, joining and assembly arena.
---
In Manufacturing News…
📌 The countdown to Manufacturing Day! Lee than sixty days until the BIG kickoff day! MFG Day 2022 is Friday October 7th!
MFG Day is manufacturing's biggest annual opportunity to inspire the next generation to start careers in modern manufacturing through a series of focused events to promote manufacturing to students, parents, and educators. Plan to open your doors Oct. 7 or throughout the month of October!
Get a resource guide and all you need to get started planning your Manufacturing Day event at Creators Wanted dot org.  https://creatorswanted.org/
Follow on Twitter: @MfgDay – use #MFGday22 to get IN the conversation!
---
It's time to get registered for the 41st edition of the International Fastener Expo, which will take place in Las Vegas, NV October 17-19th.
The International Fastener Expo is Largest B2B expo of Industrial Fasteners and Tooling & Machinery in North America. Since 1981, the event continues to bring together the manufacturers and master distributors of fasteners and other related products and services with distributors and sales agents in the entire supply and distribution chain.
IFE Exhibitors! With more than 300 companies already registered, space is running out to exhibit at this year's expo. Don't miss your opportunity to make an impact at the largest B2B expo for #fasteners!
IFE Exhibitors: Fastener News Desk will be on the expo floor looking for the winners of the 2022 BEST BOOTH AWARDS. This year the overall BEST BOOTH AWARD WINNER will claim the first ever customized Championship Belt. We can't wait to see your creativity this October in Vegas!
Go to https://fastenershows.com to book your space today!
GET REGISTERED USE FND's Discount Code: FND50 and SAVE.
---
In Fastener Event News …

Wednesday, August 10, 2022 Join the NFDA and YFP for a panel discussing the next generation of fastener professionals. They'll discuss What's Working Best for the Younger Generations. The panelists will dive into best practices for managing, motivating, and interacting with young employees and colleagues.  Register at NFDA-Fastener.org
---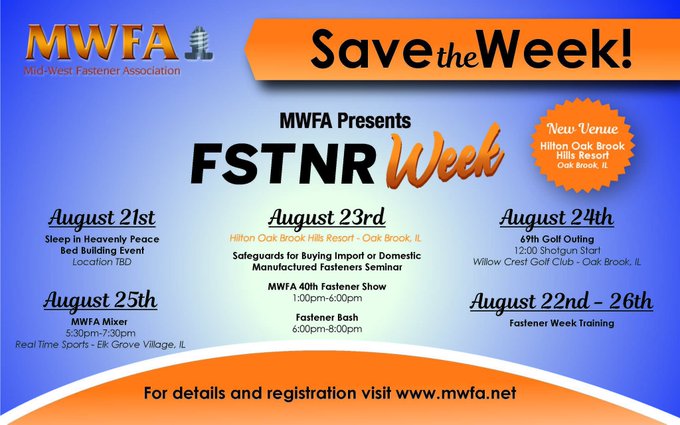 The Midwest Fastener Association's FSTNR WEEK is happening this month! August 21-26th Join MWFA members for a week of events that include a Charity Bed Building Event that benefits the Sleep in Heavenly Peace Organization, a Fastener seminar, golf outing and lots more networking opportunities! 👉 Registration and more info: http://MWFA.net
---
Are you ready to earn a Certified Fastener Specialist™ (CFS) designation at the end of a 5-day immersive education experience? Well then you'll want to register for The Fastener Training Institute's Fastener Training Week, happening August 22-26 in Chicago. The advanced technical training program is offered in partnership with Industrial Fastener Institute and is for fastener distributors, manufacturers, and end-users. Fastener Training Week, hosted by the Mid-West Fastener Association, offers five intensive days of education and plant tours as part of the FTI Certified Fastener Specialist™ (CFS) advanced technical training program. Attendees will be eligible for the Certified Fastener Specialist™ (CFS) designation. TODAY IS THE LAST DAY FOR Early Bird Registration!  Save $500 now. Go to FastenerTraining.org
---
The stories featured in this week's episode of IN THE NEWS can be found at Fastener News Desk or in our Twitter feed @FastenerNews and on LinkedIn in the Fastener News Group!
---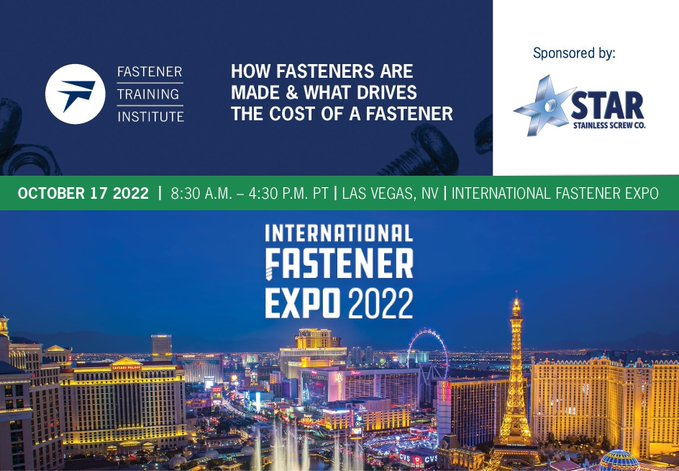 REGISTRATION IS NOW OPEN FOR Fastener Training Institute's "How Fasteners are Made and What Drives the Cost of a Fastener" CLASS at the International fastener Expo. For Registration and more info go to: https://fastenershows.com/fti-class/
---
Industrial products are comprehensive and purchasing them online can lead to poor customer experiences when utilizing faceted search. Product Genius Technology's grid technology allows clients to search, sort and purchase 100's of products from a one-page buying experience. Experience and Demo FAST Fastener buying at 1-800-Fasteners.com.
PGT's services also include, data cleaning and preparation, consulting, and strategizing. Contact ProductGeniusTechnology.com or call 1-800-fasteners to find out how to get started today.
---
If you would like to share your company's events, news or sponsor an upcoming episode of IN THE NEWS or would like to add to the Fastener Museum me: lisa@fastenernewsdesk.com.
Thanks for tuning in to this week's episode of IN THE NEWS with Fastener News Desk.

Until next week, be well, be safe and Keep it Fastenating.
---
RELATED CONTENT:
IN THE NEWS with Fastener News Desk the Week of August 1st, 2022
IN THE NEWS with Fastener News Desk the Week of July 25th, 2022