IN THE NEWS with Fastener News Desk the Week of July 25th, 2022
hdfadmin
I'm Lisa Kleinhandler, Editor-in-Chief at Fastener News Desk
Watch Now on FastenerTV at YouTube: (8:18)
In Fastener News…
A New Patent-Pending Concealed Fastener Clip from Metl-Span Increases Strength & Durability of Building Facades. Metl-Span, a Nucor Company and recognized leader in the advancement of insulated metal panel technology, is expanding its lineup of clips for concealed #fasteners with the introduction of the patent-pending V6 X-Span Clip.
---
In Manufacturing News… 📌 Save the Date: The countdown to ManufacturingDay! MFG Day 2022 is Friday October 7th! MFG Day is manufacturing's biggest annual opportunity to inspire the next generation to start careers in modern manufacturing through a series of focused events to promote manufacturing to students, parents and educators. Plan to open your doors Oct. 7 or throughout the month of October! Get a resource guide and all you need to get started planning your Manufacturing Day event at https://creatorswanted.org/ Get in the conversation using #MFGDay22
---
Join the International Fastener Movement at the 2022 International Fastener Expo! #IFE2022 is your opportunity to connect with industry leading suppliers & peers during this 3-day event!
REGISTRATION IS OPEN for the 41st edition of the International Fastener Expo which will take place in Las Vegas, NV October 17-19th. The IFE is Largest B2B expo of Industrial Fasteners and Tooling & Machinery in North America. Since 1981, the event continues to bring together the manufacturers and master distributors of fasteners and other related products and services with distributors and sales agents in the entire supply and distribution chain.
IFE Exhibitors! With more than 300 companies already registered, space is running out to exhibit at this year's expo. Don't miss your opportunity to make an impact at the largest B2B expo for #fasteners, tooling & machinery!
This year's expo is going to be bigger and better than ever and FND will be looking forward to awarding the 2022 Best Booth winners! The overall BEST BOOTH will be awarded a first ever Ultimate Championship Customized Belt. You're going to want to WIN the belt and the bragging rights for years!
Book your space today! https://fastenershows.com 
TO REGISTER USE FND's Discount Code: FND50
---
In Fastener Event News …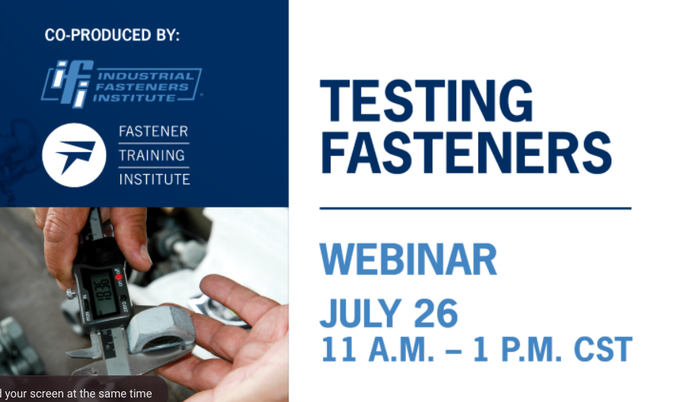 Tue. July 26th Webinar: Testing Fasteners. Explore the assortment of test choices for fasteners hosted by the industrial fastener institute & The fastener training institute 🔩✏️ Register for the Webinar at FastenerTraining.org.
---
Join the North Coast Fastener Association for their Night at the Ballpark networking event on Thursday, August 4th at Progressive Field to watch the Cleveland Guardians battle the Houston Astros. For more info go to NCFAonline.com
---

Wed,. August 10th Join the NFDA and YFP for a panel discussing the next generation of fastener professionals. What's Working Best for the Younger Generations? The panelists will dive into best practices for managing, motivating, and interacting with young employees and colleagues. To Register go to: NFDA-Fastener.org
---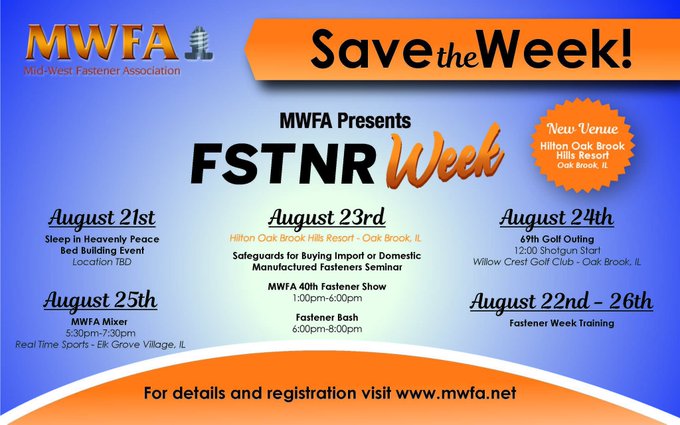 Register at NFDA-Fastener.org The Midwest Fastener Association's FSTNR WEEK is coming up next month! Save the dates: August 21-26th for a great week of events! 👉 Registration and more info: http://MWFA.net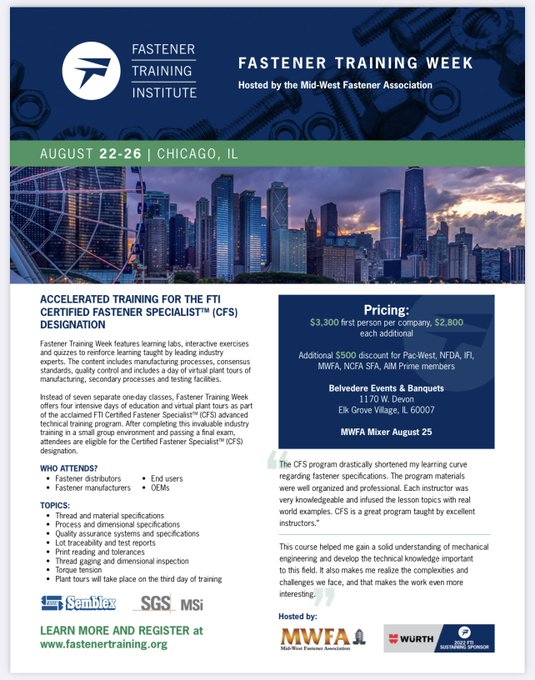 The FTI's Fastener Training Week is scheduled for August 22-26 in Chicago. The advanced technical training program is offered in partnership with Industrial Fastener Institute and is for fastener distributors, manufacturers, and end-users. Fastener Training Week offers five intensive days of education and plant tours as part of the FTI Certified Fastener Specialist™ (CFS) advanced technical training program. Attendees will be eligible for the Certified Fastener Specialist™ (CFS) designation. Early-bird registration available until August 1st. Go to FastenerTraining.org
---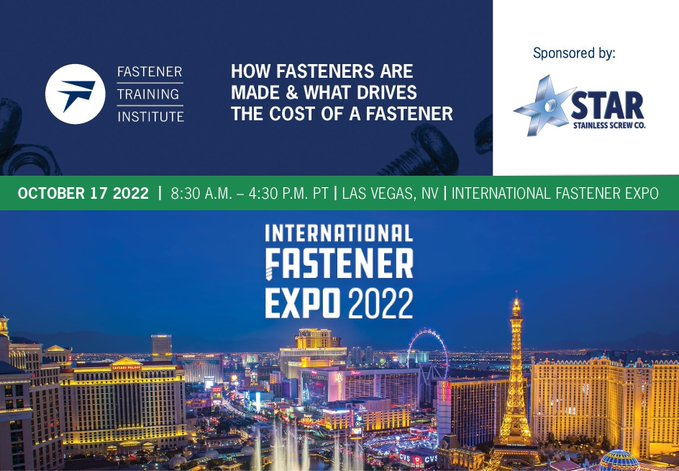 IFE Exhibitors and attendees REGISTRATION IS NOW OPEN FOR FTI "How Fasteners are Made and What Drives the Cost of a Fastener" CLASS. For Registration and more info go to: https://fastenershows.com/fti-class/
---
🏆 for the past 40 years the International Fastener Expo Fastener Hall of Fame has recognized professionals who have made significant and enduring contributions to the fastener industry. Who do you think should be honored with this prestigious award this year? To nominate go to FastenerShows.com. The deadline to submit nominations is July 30th.
---
Industrial products are comprehensive and purchasing them online can lead to poor customer experiences when utilizing faceted search. Product Genius Technology's grid technology allows clients to search, sort and purchase 100's of products from a one-page buying experience. Experience FAST Fastener buying at 1-800-Fasteners.com. PGT's services also include, data cleaning and preparation, consulting, and strategizing. Contact ProductGeniusTechnology.com or call 1-800-fasteners to find out how to get started today.
---
If you would like to share your company's events, news or sponsor an upcoming episode of IN THE NEWS or would like to add to the Fastener Museum me: lisa@fastenernewsdesk.com.
Thanks for tuning in to this week's episode of IN THE NEWS with Fastener News Desk.

Until next week, be well, be safe and Keep it Fastenating.
---
Tags:
FastenerExpo FastenerNews Fasteners COVID SupplyChain Taiwan distribution fastenernews fasteners distribution industrial $FAST fastenernews fasteners workforce training FSTNRweek leadership 
---
RELATED CONTENT:
IN THE NEWS with Fastener News Desk the Week of July 18th, 2022
IN THE NEWS with Fastener News Desk the Week of July 11th, 2022