IN THE NEWS with Fastener News Desk the Week of July 11th, 2022
hdfadmin
I'm Lisa Kleinhandler, Editor-in-Chief at Fastener News Desk
It's IN THE NEWS the Week of July 11th, 2022
Economic activity in the manufacturing sector grew in June, with the overall economy achieving a 25th consecutive month of growth, say the nation's supply executives in the latest Manufacturing ISM® Report On Business®.
"The June Manufacturing PMI® registered 53 percent, down 3.1 percentage points from the reading of 56.1 percent in May. This figure indicates expansion in the overall economy for the 25th month in a row after a contraction in April and May 2020. This is the lowest Manufacturing PMI® reading since June 2020, when it registered 52.4 percent. The New Orders Index reading of 49.2 percent is 5.9 percentage points lower than the 55.1 percent recorded in May.
---
In Fastener Industry News…
The June seasonally adjusted Fastener Distributor Index (FDI) reading was 53.8, improved vs. last month, indicating slightly faster growth than May. The pricing indices moderated some as respondents noted softening commodity prices and some improvement in material shortages/lead times. Customer demand seemingly remains strong, although a few participants noted some softening ahead was expected. Accordingly, the Forward-Looking Indicator (FLI) fell to just mildly above expansionary levels at 51.5 as respondents offered mixed outlooks: some see no signs of slowdown, others predict softening customer demand in coming months. Net, we believe growth and overall market conditions in June remained solid but see potential signs of decelerating growth in the second half of the year.
---
REGISTRATION IS NOW OPEN for the 41st edition of the International Fastener Expo which will take place in Las Vegas, NV October 17-19th. The IFE is Largest B2B expo of Industrial Fasteners and Tooling & Machinery in North America. Since 1981, the event continues to bring together the manufacturers and master distributors of fasteners and other related products and services with distributors and sales agents in the entire supply and distribution chain.
IFE Exhibitors! With more than 300 companies already registered, space is running out to exhibit at this year's expo. Don't miss your opportunity to make an impact at the largest B2B expo for #fasteners, tooling & machinery!
This year's expo is going to be bigger and better than ever and FND will be looking forward to awarding the next Best Booth winners! The overall BEST BOOTH will be awarded a first ever Ultimate Championship Customized Belt. You're going to want to WIN the belt and bragging rights for years!
Go to https://fastenershows.com to book your space
GET REGISTERED today! USE FND's Discount Code: FND50 and SAVE 50% off registration.
---
In Fastener Event News …
The Fastener Training Institute has a NEW webinar: Testing Fasteners which will be happening on Tuesday, July 26 11 a.m. to 1 p.m. CST. The two-hour technical webinar will explore the assortment of test choices for fasteners. Participants will learn about some of the key tests, hardness, tensile strength, shear strength and corrosion, that every fastener manufacturer or supplier should be familiar with. Get more info and register at FastenerTraining.org
---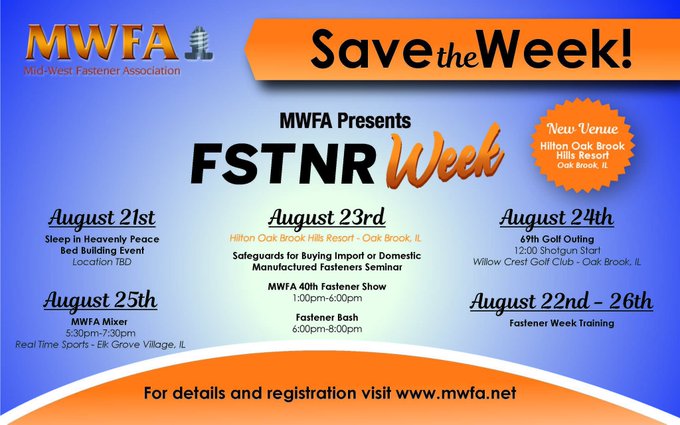 Save the dates: August 21-26th for the Midwest Fastener Association's FSTNR WEEK! Get involved in a Charity Bed Building Event that benefits the Sleep in Heavenly Peace Organization, plus A Fastener seminar, golf outing and lots more! 👉 Registration and more info: http://MWFA.net
---
The Fastener Training Institute's Fastener Training Week in-person training class is scheduled for August 22-26 in Chicago. The advanced technical training program is offered in partnership with Industrial Fastener Institute and is for fastener distributors, manufacturers, and end-users.
Fastener Training Week, hosted by the Mid-West Fastener Association, offers five intensive days of education and plant tours as part of the FTI Certified Fastener Specialist™ (CFS) advanced technical training program. Attendees will be eligible for the Certified Fastener Specialist™ (CFS) designation.
For more info go to: https://www.fastenertraining.org/
---
Test your knowledge of METRIC #fasteners with this week's FASTENER POP QUIZ! 🔩
Sponsored by Eurolink Fastener Supply Service "Hard-to-Find Metric Fasteners Delivered" Go to: EurolinkFSS.com
---
🏆 for the past 40 years the International Fastener Expo Fastener Hall of Fame has recognized professionals who have made significant and enduring contributions to the fastener industry. Who do you think should be honored with this prestigious award this year? To nominate go to FastenerShows.com. The deadline to submit nominations is July 30th.
---
The stories featured in this week's episode of IN THE NEWS can be found at Fastener News Desk or in our Twitter feed @FastenerNews and on LinkedIn in the Fastener News Group!
---
Product Genius Technology Enhance your website customer experience with the best view for industrial product search. The past two years have certainly been a digital wake-up call for distributors and manufacturers. B2B buyers' behaviors have gone full on digital! Digitizing data and product information is key to the beginnings of your business's digital transformation.  Is your product data ready for eCommerce and a great user experience.
Product Genius Technology's services include, data cleaning and preparation, consulting, and strategizing. Contact ProductGeniusTechnology.com or call 1-800-fasteners to find out how to get started today.
---
If you would like to share your company's events, news or sponsor an upcoming episode of IN THE NEWS or would like to add to the Fastener Museum me: lisa@fastenernewsdesk.com.
---
Thanks for tuning in to this week's episode of IN THE NEWS with Fastener News Desk.

Until next week, be well, be safe and Keep it Fastenating.
---
---
RELATED CONTENT:
IN THE NEWS with Fastener News Desk the Week of July 4th, 2022
IN THE NEWS with Fastener News Desk the Week of June 27th, 2022