IN THE NEWS with Fastener News Desk the Week of July 4th, 2022
hdfadmin
It's IN THE NEWS the Week of July 4th, 2022 
America celebrated her 246th birthday yesterday with celebrations across our nation. Its going to be a short week so let's get right to in the news:
WATCH 'IN THE NEWS' NOW (6:23)
Bloomberg: Senior US and Chinese officials discussed US economic sanctions and tariffs today amid reports the Biden administration is close to rolling back some of the trade levies imposed by the former President.
The lifting of tariffs and sanctions and the fair treatment of Chinese enterprises are areas of concern to China their Vice Premier told US Treasury Secretary Janet Yellen in a video call Tuesday morning.
According to China, the two sides discussed economic policy and stabilizing global supply chains, agreeing that it's significant for the US and China to strengthen communication and coordination in those areas for the benefit of both countries and the rest of the world. The talks were pragmatic and constructive, according to the statement.
Reuters: reported last week that China's commerce ministry said it would extend anti-dumping tariffs on certain steel fasteners imported from the European Union and United Kingdom for five years.
The anti-dumping tariffs were imposed on June 29, the ministry said in a statement.
---
In Fastener Business Acquisition News…
AFC Industries has acquired U.K. based TFC Ltd. (https://tfc.eu.com/) Terms of the deal were not disclosed. For over 60 years, TFC has been one of Europe's leading suppliers of industrial fastening products and services supplying customers via a network of UK and European locations. TFC offers customized VMI, product solutions, and engineering & design consultation for a wide range of industrial markets.
AFC CEO Kevin Godin said, "we have been looking for some time to be able to better support customers
in Europe, but it was crucial to find the right team who shared AFC values and bias for execution. We
recognized in TFC a similar commitment to customer service, team culture, and execution that have
been central to AFC's success. We are excited to have Morgan and his team join the AFC family and
supporting them in their continued growth."
---
REGISTRATION IS NOW OPEN for the 41st edition of the International Fastener Expo which will take place in Las Vegas, NV October 17-19th. The IFE is Largest B2B expo of Industrial Fasteners and Tooling & Machinery in North America. Since 1981, the event continues to bring together the manufacturers and master distributors of fasteners and other related products and services with distributors and sales agents in the entire supply and distribution chain.
IFE Exhibitors! With more than 300 companies already registered, space is running out to exhibit at this year's expo. Don't miss your opportunity to make an impact at the largest B2B expo for #fasteners, tooling & machinery!
This year is going to be bigger and better than ever! FND is looking forward to awarding the Best Booth winners. This year the overall Best Booth Award winner will walk away with a customized Ultimate 6lb Championship Belt.
IFE Exhibitors you're going to want to WIN the championship Best Booth Award belt!
Go to https://fastenershows.com to book your space + GET REGISTERED today!
---
In Fastener News…
The Gilchrist Foundation has awarded four scholarships from the 2022 applicants.  Congratulations to the recipients. Find out which candidates and companies were chosen featured at Fastener News Desk.
Kyndal Shannon-Hercules Bolt
Issayana Camacho-Kanebridge Corp
Myles Prodoehl-Valley Fastener Group
Maxton Blackburn-Hanger Bolt & Stud
---
In Fastener Event News …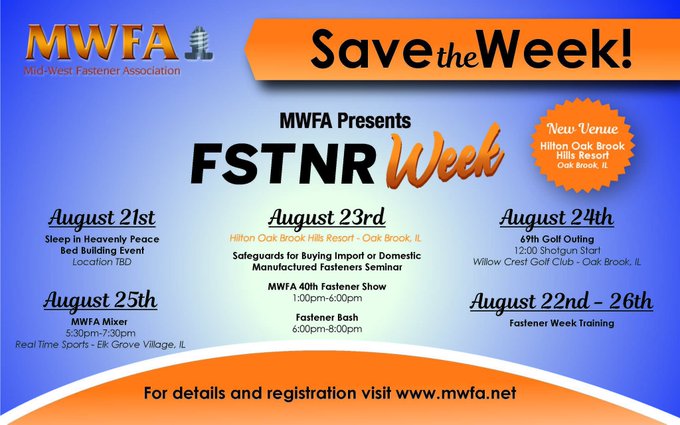 Save the dates: August 21-26th for the Midwest Fastener Association's FSTNR WEEK! Get involved in a Charity Bed Building Event that benefits the Sleep in Heavenly Peace Organization, plus A Fastener seminar, golf outing and lots more! 👉 Registration and more info: http://MWFA.net
Twitter: @MWFA_News @ShpBeds
---
The Fastener Training Institute's Fastener Training Week in-person training class is scheduled for August 22-26 in Chicago. The advanced technical training program is offered in partnership with Industrial Fastener Institute and is for fastener distributors, manufacturers, and end-users.
Fastener Training Week, hosted by the Mid-West Fastener Association, offers five intensive days of education and plant tours as part of the FTI Certified Fastener Specialist™ (CFS) advanced technical training program. Attendees will be eligible for the Certified Fastener Specialist™ (CFS) designation. Register for Fastener Training Week before July 8 and get FTI's Fastener Basics 3-part Webinar Series for FREE!
---
🏆 The International Fastener Expo Fastener Hall of Fame recognizes professionals who have made significant and enduring contributions to the fastener industry. This year marks the 40th anniversary of the IFE Hall of Fame Awards! Who do you think should be honored with this prestigious award this year? To nominate go to FastenerShows.com. The deadline to submit nominations is July 30th. Twitter: @FastenerShow
---
The stories featured in this week's episode of IN THE NEWS can be found at Fastener News Desk or in our Twitter feed @FastenerNews and on LinkedIn in the Fastener News Group!
---
Product Genius Technology. Enhance your website customer experience with the best view for industrial product search. The past two years have certainly been a digital wake-up call for distributors and manufacturers. B2B buyers' behaviors have gone full on digital! Digitizing data and product information is key to the beginnings of your business's digital transformation.  Is your product data ready for eCommerce and a great user experience.
Product Genius Technology's services include, data cleaning and preparation, consulting, and strategizing. Contact ProductGeniusTechnology.com or call 1-800-fasteners to find out how to get started today.
---
If you would like to share your company's events, news or sponsor an upcoming episode of IN THE NEWS or would like to add to the Fastener Museum me: lisa@fastenernewsdesk.com.
---
Thanks for tuning in to this week's episode of IN THE NEWS with Fastener News Desk.
Until next week, be well, be safe and Keep it Fastenating.
---
RELATED CONTENT:
IN THE NEWS with Fastener News Desk the Week of June 27th, 2022