IN THE NEWS with Fastener News Desk the Week of June 27th, 2022
hdfadmin
WATCH 'IN THE NEWS' NOW: (9:45)
---
In Fastener Industry Acquisition News…
NEFCO a family-owned and operated construction supply company, is expanding its reach to the Midwest with the acquisition of Jiffy Fastening Systems headquartered in Lexington, Kentucky. This is NEFCO's 6th acquisition since 2017. Founded in 1967, Jiffy supplies a large breadth of product to mechanical, electrical, plumbing and HVAC contractors throughout Kentucky, Ohio, and Indiana.
---
 Endries International, a fastener distributor located in Brillion,WI has purchased Store Room Fasteners, a 38-year-old business based in Montgomery, AL. Financial terms were not disclosed. Company president Steve Endries said in a statement that "Endries is thrilled to welcome Store Room Fasteners into our family," Tim has built an organization that mirrors what Endries was and is. The methodology and approach both companies follow is very consistent. We look forward to working with our new team members to improve our overall market offerings."  @Endries_Int
---
REGISTRATION IS NOW OPEN for the 41st edition of the International Fastener Expo which will take place in Las Vegas, NV October 17-19th. The IFE is Largest B2B expo of Industrial Fasteners and Tooling & Machinery in North America. Since 1981, the event continues to bring together the manufacturers and master distributors of fasteners and other related products and services with distributors and sales agents in the entire supply and distribution chain. MAKE SURE TO Register by June 27 to save with the early bird discount rate!
IFE Exhibitors! With more than 300 companies already registered, space is running out to exhibit at this year's expo. Don't miss your opportunity to make an impact at the largest B2B expo for #fasteners, tooling & machinery! This year is going to be bigger and better than ever and FND is looking forward to awarding the Best Booth winners with the title and an Ultimate 6lb Championship Customized Belt. You're going to want this to show off and brag about for years!
Click here to book your space + GET REGISTERED today!
---
In Fastener News
Nick Ruetz President of AIS, has been Elected as the 2022-2023 President of the National Fastener Distributor Association. All Integrated Solutions is an MSC Company.
---
 In 3D Printing News…
Fastener News Desk has special coverage of ground-breaking research in bolt manufacturing utilizing additive manufacturing from the University of Limerick in Ireland. Their School of Engineering has successfully manufactured 316L Stainless Steel bolts that meet or exceed specifications. They felt that the gap between how aerospace bolts have been designed and produced over many decades could be optimized by employing the advantages offered by AM technology.
---
New Leadership Announcement from Young Fastener Professionals. Mallory Cravens Nichols of Advance Components has been elected as the 2022-2023 president of the Young Fastener Professionals. Craig Beaty of Beawest Fasteners will serve as vice president, and Jake Glaser of Sherex Fastening Solutions will remain on the Board as immediate past president.
The YFP Board is currently laying the groundwork to provide YFP involvement and support to all areas of the industry. If you are interested in volunteering, mentoring, or being added to the YFP email list contact nfda-fastener.org for more information.
---
In Fastener News from Abroad…
The EFDA Assembly of Delegates elected Andreas Bertaggia of Bossard as new President of EFDA. The European Fastener Distributor Association was formed in 2000 to represent the interests of fastener importers and distributors throughout Europe. Andreas Bertaggia is Vice-President, Head of Global Supply Chain of Bossard Group based in Switzerland. He has been a member of the Assembly of Delegates since 2019 and leader of the EFDA Task Force.
---
Fastener Industry Scholarships…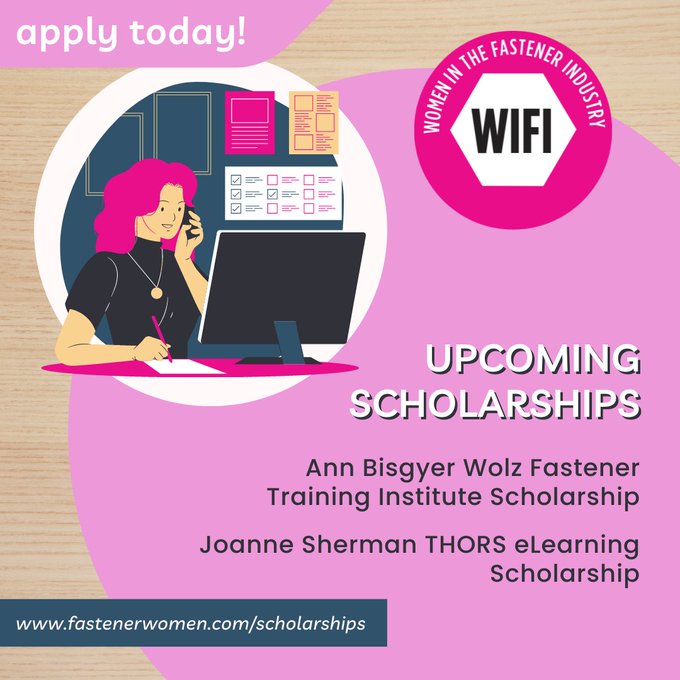 Women in the Fastener Industry Association is offering two great scholarship opportunities!
WIFI honors the memory of Ann Bisgyer Wolz, co-publisher of Fastener Industry News with a scholarship for opportunity to become a Certified Fastener Specialist with the Fastener Training Institute. Deadline for applications is tomorrow, June 28th.
WIFI honors the memory of Joanne Goodman Sherman, co-owner of Industrial Rivet and Fastener with the Joanne Sherman THORS eLearning Scholarship which is currently accepting applicants! Application deadline is July 1.
Get more info about the scholarship opportunities and apply today at https://fastenerwomen.com/scholarships
---
In Fastener Event News …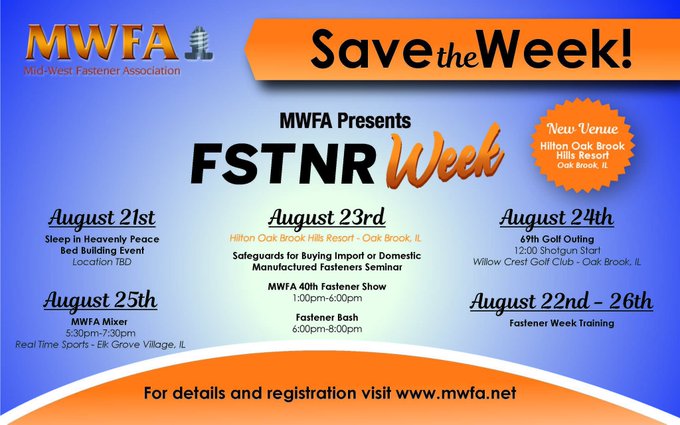 Save the dates: August 21-26th for the Midwest Fastener Association's FSTNR WEEK! Get involved in a Charity Bed Building Event that benefits the Sleep in Heavenly Peace Organization, plus A Fastener seminar, golf outing and lots more! 👉 Registration and more info: http://MWFA.net
Twitter: @MWFA_News @ShpBeds
---
The Fastener Training Institute's Fastener Training Week in-person training class is scheduled for August 22-26 in Chicago. The advanced technical training program is offered in partnership with Industrial Fastener Institute and is for fastener distributors, manufacturers, and end-users.
Fastener Training Week, hosted by the Mid-West Fastener Association, offers five intensive days of education and plant tours as part of the FTI Certified Fastener Specialist™ (CFS) advanced technical training program. Attendees will be eligible for the Certified Fastener Specialist™ (CFS) designation.
---
🏆 The International Fastener Expo Fastener Hall of Fame recognizes professionals who have made significant and enduring contributions to the fastener industry. This year marks the 40th anniversary of the IFE Hall of Fame Awards! Who do you think should be honored with this prestigious award this year? To nominate go to FastenerShows.com. The deadline to submit nominations is July 30th. Twitter: @FastenerShow
---
The stories featured in this week's episode of IN THE NEWS can be found at Fastener News Desk or in our Twitter feed @FastenerNews and on LinkedIn in the Fastener News Group!
---
SPONSOR: Product Genius Technology. Enhance your website customer experience with the best view for industrial product search. The past two years have certainly been a digital wake-up call for distributors and manufacturers. B2B buyers' behaviors have gone full on digital! Digitizing data and product information is key to the beginnings of your business's digital transformation.  Is your product data ready for eCommerce and a great user experience.
Product Genius Technology's services include, data cleaning and preparation, consulting, and strategizing. Contact ProductGeniusTechnology.com or call 1-800-fasteners to find out how to get started today.
---
Fastener News Desk is preparing for the grand opening of the Fastener Museum! The online museum will feature a collection of industry memorabilia that dates back over the past decades. We welcome your fastener company to share individual digital images of your memorabilia with us to add to the Fastener Museum and help create the largest online collection of fastener related history.
---
If you would like to share your company's events, news or sponsor an upcoming episode of IN THE NEWS or would like to add to the Fastener Museum me: lisa@fastenernewsdesk.com.
---
Thanks for tuning in to this week's episode of IN THE NEWS with Fastener News Desk.

Until next week, be well, be safe and Keep it Fastenating.
---
RELATED CONTENT:
IN THE NEWS with Fastener News Desk the Week of June 20th, 2022
IN THE NEWS with Fastener News Desk the Week of June 13th, 2022