IN THE NEWS with Fastener News Desk the Week of June 13th, 2022
hdfadmin
It's IN THE NEWS the Week of June 13th, 2022
In Fastener News…
The May seasonally adjusted Fastener Distributor Index (FDI) was essentially unchanged vs. last month, remaining in modest growth territory at 52.7. Container and import logistics constraints and slowing growth were consistent themes among respondents. The pricing indices were also stable but at very high levels, as higher import costs and raw material pressures continue to drive out-sized fastener pricing. The Forward-Looking Indicator (FLI) was also consistent with last month at 55.4, as higher employment levels offset a weaker six-month outlook. Growth and overall market conditions in May were stable m/m, with the overall index indicative of continued but moderating growth.
Hear more about this month's FDI in the NEW Episode of Fully Threaded Radio scheduled to drop this week!
WATCH 'IN THE NEWS' NOW: (7:43)
In Acquisition News…
Nucor Corporation announced that they have entered into an agreement to acquire Summit Utility Structures LLC and related company, Sovereign Steel Manufacturing LLC, producers of metal poles and other steel structures for utility infrastructure and highway signage. These companies will become part of a new business unit, Nucor Towers & Structures, serving the utility, transportation and telecommunication sectors. While the acquired companies are ideally suited to service the markets in the Northeast part of the U.S., Nucor's plan is to establish a nationwide footprint able to service all customers throughout North America.
---
In Fastener Industry Acquisition News from Overseas…
The Böllhoff Group has acquired Gillis Aerospace, a French manufacturer of #fasteners for the aerospace industry, Böllhoff expands its portfolio in the aerospace sector. In January 2020 the Böllhoff Group had already acquired 40% of the shares in Gillis Aerospace. Gillis Aerospace specialises in the production of special fasteners and bolts as well as surface finishing. Due to the high level of automation, Gillis is especially characterised by high product quality and short lead times. Furthermore, Gillis has its own facilities for surface coating and can therefore offer the complete value chain from a single source with its comprehensive coating know-how. https://boellhoff.com/de-en/news/boellhoff-acquires-gillis-aerospace/
---
FND would like to thank our SPONSOR: The International Fastener Expo
This year will mark the 41st edition of the International Fastener Expo which will take place in Las Vegas, NV October 17-19th. The IFE is Largest B2B expo of Industrial Fasteners and Tooling & Machinery in North America. Since 1981, the event continues to bring together the manufacturers and master distributors of fasteners and other related products and services with distributors and sales agents in the entire supply and distribution chain. With more than 300 companies already registered, space is running out to exhibit at this year's expo. Don't miss your opportunity to make an impact at the largest B2B expo for #fasteners, tooling & machinery! Go to https://fastenershows.com/exhibitor/exhibit-inquire/ to book your space today!
---
Upcoming Fastener Events include …
The National Fastener Distributors Association will host the 2022 NFDA Annual Meeting and Executive Sales Planning Sessions® (ESPS®). The meeting will take place at the Embassy Suites in Downtown Minneapolis, MN. June 21 – 23, 2022. For more info go to NFDA-Fastener.org
---
The Fastener Training Institute's Fastener Training Week in-person training class is scheduled for August 22-26 in Chicago. This advanced technical training program is offered in partnership with Industrial Fastener Institute and is for fastener distributors, manufacturers, and end-users.
Fastener Training Week, hosted by the Mid-West Fastener Association, offers five intensive days of education and plant tours as part of the FTI Certified Fastener Specialist™ (CFS) advanced technical training program. After completing this industry training in a small group environment and passing a final exam, attendees are eligible for the Certified Fastener Specialist™ (CFS) designation. FastenerTraining.org
Fastener Training Week, hosted by the Mid-West Fastener Association, offers five intensive days of education and plant tours as part of the FTI Certified Fastener Specialist™ (CFS) advanced technical training program. Attendees will be eligible for the Certified Fastener Specialist™ (CFS) designation.
---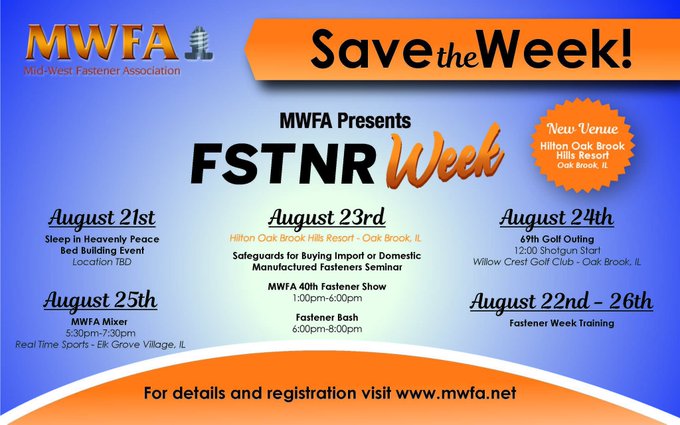 Save The Week for the Midwest Fastener Association's FSTNR WEEK! Happening August 21-26th. Get involved in a Bed Building Event that benefits the Sleep in Heavenly Peace Organization, plus A Fastener seminar, golf outing and lots more! 👉 Registration and more info: http://MWFA.net
Twitter: @MWFA_News @ShpBeds
---
🏆 The International Fastener Expo Fastener Hall of Fame recognizes professionals who have made significant and enduring contributions to the fastener industry. This year marks the 40th anniversary of the IFE Hall of Fame Awards! Who do you think should be honored with this prestigious award this year? To nominate go to FastenerShows.com. The deadline to submit nominations is July 30th. Twitter: @FastenerShow
---
The stories featured in this week's episode of IN THE NEWS can be found at Fastener News Desk or in our Twitter feed @FastenerNews and on LinkedIn in the Fastener News Group!
---
SPONSOR: Product Genius Technology. Enhance your website customer experience with the best view for industrial product search. The past two years have certainly been a digital wake-up call for distributors and manufacturers. B2B buyers' behaviors have gone full on digital! Digitizing data and product information is key to the beginnings of your business's digital transformation.  Is your product data ready for eCommerce and a great user experience.
Product Genius Technology's services include, data cleaning and preparation, consulting, and strategizing. Contact ProductGeniusTechnology.com or call 1-800-fasteners to find out how to get started today.
---
Fastener News Desk is preparing for the grand opening of the Fastener Museum! The online museum will feature a collection of industry memorabilia that dates back over the past decades. We welcome your fastener company to share individual digital images of your memorabilia with us to add to the Fastener Museum and help create the largest online collection of fastener related history.
---
If you would like to share your company's events, news or sponsor an upcoming episode of IN THE NEWS or would like to add to the Fastener Museum me: lisa@fastenernewsdesk.com.
---
Thanks for tuning in to this week's episode of IN THE NEWS with Fastener News Desk.

Until next week, be well, be safe and Keep it Fastenating.
---
Tags:
#FastenerExpo #FastenerNews #Fasteners #COVID #SupplyChain #Taiwan #distribution #fastenernews #fasteners #distribution #industrial $FAST #fastenernews #fasteners #workforce #training #fasteners #fastenernews #FSTNRweek #leadership #succession
---
RELATED CONTENT:
IN THE NEWS with Fastener News Desk the Week of June 6th, 2022
IN THE NEWS with Fastener News Desk the Week of May 30th, 2022