IN THE NEWS with Fastener News Desk the Week of May 16th, 2022
hdfadmin
I'm Lisa Kleinhandler, Editor-in-Chief at Fastener News Desk
It's IN THE NEWS the Week of May 16th, 2022
Watch now on our YouTube Channel FastenerTV: (7 min 1 sec)
---
---
In Fastener News…

Fastener Fair USA rolls into Detroit, MI Tomorrow. Show dates are: May 17-19th!
Also in Detroit is the RAPID + TCT event Begins tomorrow and runs through the-19th. The event is largest gathering of additive manufacturing professionals, enthusiasts, and trailblazers. Terry Wohlers, additive manufacturing expert and founder of Wohlers Associates, powered by @ASTMIntl, will present top industry trends each day. Gain insights into the future of AM driven by world-class research and commercialization efforts at the RAPID event. To get in the conversation use #RAPIDevent.
---
In Fastener News from abroad….
The Würth Group world market leader in the field of assembly & fastening materials announced that they have achieved a new record with an operating result of more than 1B euros (EUR 1,270 million) for their 2021 fiscal year.
---
In Fastener Acquisition News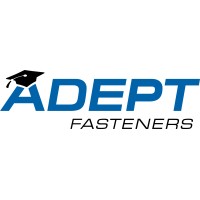 An Aerospace Fastener Stocking Distributor and Tooling Service Provider come together to provide customers with a complete fastener solution. Adept Fasteners Announced the Acquisition of Innovative Tooling Services. – Adept Fasteners, a privately owned distributor of aerospace fasteners, announces the acquisition of Innovative Tooling Services to strengthen Adept's position in the market as a leader in aerospace fastener solutions. Innovative Tooling Services, founded in 1986, provides the aerospace industry with tools and tool repair.
---
FND would like to thank our SPONSOR:
The International Fastener Expo the Largest B2B expo of Industrial Fasteners and Tooling & Machinery in North America. Since 1981, the event continues to bring together the manufacturers and master distributors of fasteners and other related products and services with distributors and sales agents in the entire supply and distribution chain. Held annually in Las Vegas, Nevada, USA, the event consists of an all-day conference program presented by endorsing fastener associations. Be sure to save the dates: October 17-19th, 2022. For more info go to FastenerShows.com
---
In Fastener Event News…
The Fastener Training Institute announced its next Fastener Training Week in-person training class is scheduled for August 22-26 in Chicago. This advanced technical training program is offered in partnership with IFI and is for fastener distributors, manufacturers, and end-users.
Fastener Training Week, hosted by the Mid-West Fastener Association, offers five intensive days of education and plant tours as part of the FTI Certified Fastener Specialist™ (CFS) advanced technical training program. After completing this industry training in a small group environment and passing a final exam, attendees are eligible for the Certified Fastener Specialist™ (CFS) designation.
---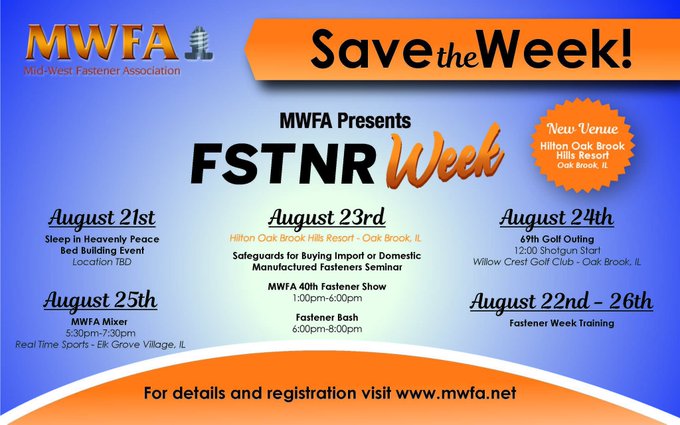 Save The Week for the Midwest Fastener Association's FSTNR WEEK! Happening August 21-26th. Get involved in a Bed Building Event that benefits the Sleep in Heavenly Peace Organization, plus A Fastener seminar, golf outing and lots more! 👉 Registration and more info: http://MWFA.net
Twitter: @MWFA_News @ShpBeds
---
🏆 The International Fastener Expo Fastener Hall of Fame recognizes professionals who have made significant and enduring contributions to the fastener industry. This year marks the 40th anniversary of the Hall of Fame Awards! Who do you think should be honored with this prestigious award this year? To nominate go to FastenerShows.com. The deadline to submit nominations is July 30th. Twitter: @FastenerShow
---
The stories featured in this week's episode of IN THE NEWS can be found at Fastener News Desk or in our Twitter feed @FastenerNews and on LinkedIn in the Fastener News Group!
---
Fastener News Desk is preparing for the grand opening of the Fastener Museum! The online museum will feature a collection of industry memorabilia that dates back over the past decades. We welcome your fastener company to share individual digital images of your memorabilia with us to add to the Fastener Museum and help create the largest online collection of fastener related history.
---
This week's episode has been sponsored by Product Genius Technology. Enhance your website customer experience with the best view for industrial product search. The past two years have certainly been a digital wake-up call for distributors and manufacturers. B2B buyers' behaviors have gone full on digital! Digitizing data and product information is key to the beginnings of your business's digital transformation.  Is your product data ready for eCommerce and a great user experience.
Product Genius Technology's services include, data cleaning and preparation, consulting, and strategizing. Contact ProductGeniusTechnology.com or call 1-800-fasteners to find out how to get started today.
---
If you would like to share your company's events, news or sponsor an upcoming episode of IN THE NEWS or would like to add to the Fastener Museum, contact me: lisa@fastenernewsdesk.com.
Thanks for tuning in to this week's episode of IN THE NEWS with Fastener News Desk.

Until next week, be well, be safe and Keep it Fastenating.
---
Tags:#FastenerExpo #FastenerNews #Fasteners #COVID #SupplyChain #Taiwan #distribution #fastenernews #fasteners #distribution #industrial $FAST #fastenernews #fasteners #workforce #training #fasteners #fastenernews #FSTNRweek
---
RELATED CONTENT:
IN THE NEWS with Fastener News Desk the Week of May 9th, 2022
IN THE NEWS with Fastener News Desk the Week of May 2nd, 2022
---