IN THE NEWS with Fastener News Desk the Week of May 9th, 2022
hdfadmin
It's 'IN THE NEWS' with Fastener News Desk the Week of May 9th, 2022
Watch now on our YouTube Channel FastenerTV: (9 min 6 sec.)
---
In Fastener News…
The Fastener Distributor Index (FDI) survey for April 2022 was released today.  The FDI softened last month coming in at 52.6 versus the March reading of 57.2, seasonally adjusted. Also moderating, the Forward-Looking Indicator (FLI) dipped to 55.1 after jumping to 65.4 the previous month.  While optimism did cool, the marker remains strong and marks the 23rd consecutive month of positive (+50.0) outlook.
Please share the FDI with your fellow North American fastener distributors and encourage them to participate.  Your help keeps the index strong: www.fastenersclearinghouse.com/fch/main.nsf/fFastenerDistributorIndex
---
FND would like to thank our SPONSOR:
The International Fastener Expo the Largest B2B expo of Industrial Fasteners and Tooling & Machinery in North America. Since 1981, the event continues to bring together the manufacturers and master distributors of fasteners, precision formed parts, fastener machinery & tooling and other related products and services with distributors and sales agents in the entire supply and distribution chain. Held annually in Las Vegas, Nevada, USA, the event consists of an all-day conference program presented by endorsing fastener associations. Be sure to save the dates: October 17-19th, 2022. For more info go to FastenerShows.com
---
Birmingham Fastener one of the nation's most prominent fastener manufacturers announced that Young Fastener Professional, Baron Yarborough will be joining their family of companies as the General Manager of their recently acquired Champion Manufacturing.
Twitter: @BhamFast
---
Optimas Solutions announced that they have a new Chief Information Officer. Paul Schorr will lead the technology strategy for Optimas Solutions and oversee all aspects of IT for the company. Under his guidance, Optimas plans to strategically invest in technology that drives business efficiencies, fuels growth, and brings further innovation to bear for their customers. Read more about Paul Schorr and his plans to accelerate Optimas's Forward Faster transformation at Optimas.com
---
In Fastener Acquisition News…

GHK Capital Partners a leading middle-market private equity firm, announced today that it completed the acquisition of Auveco (the "Company"), based in Cold Spring, KY. Founded in 1916, Auveco is a leading master distributor of automotive fasteners as well as general industrial fasteners used in maintenance, repair, and operations applications. Terms of the acquisition were not disclosed.
GHK's acquisition of Auveco will enable the Company to pursue future organic and inorganic growth initiatives as it continues to expand and evolve its product portfolio, supplier base, and customer-focused sales strategy. All key senior executives will remain with the Company.
---
PrimeSource Brands a North American provider of specialty branded residential building products backed by Clearlake Capital Group announced today that it has acquired Axxis, LLC a provider of fastening tools and collated fasteners. The transaction is PrimeSource's fourth acquisition during Clearlake's ownership. Financial terms were not disclosed.
---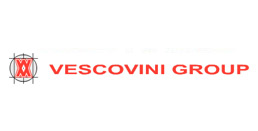 In Fastener News from abroad Bloomberg reported that Vescovini Group is planning an initial public offering in Milan that could value the maker of industrial fasteners at as much as $2 billion. Vescovini manufactures more than 1.3 billion industrial fasteners — such as nuts, bolts and axles. The company supplies its products to the automotive, construction and agricultural machinery sectors and generates annual revenue of $235 million euros or $248 million.
---
In Distribution News…
Lawson Products Announces A Name Change to Distribution Solutions Group, Inc. A Best-in-class, specialty distribution company, which includes operating companies, Lawson Products, TestEquity and Gexpro Services. They will be changing their ticker symbol and be trading on the NASDAQ under symbol "DSGR" commencing Monday, May 9, 2022.
---
In Fastener Event News…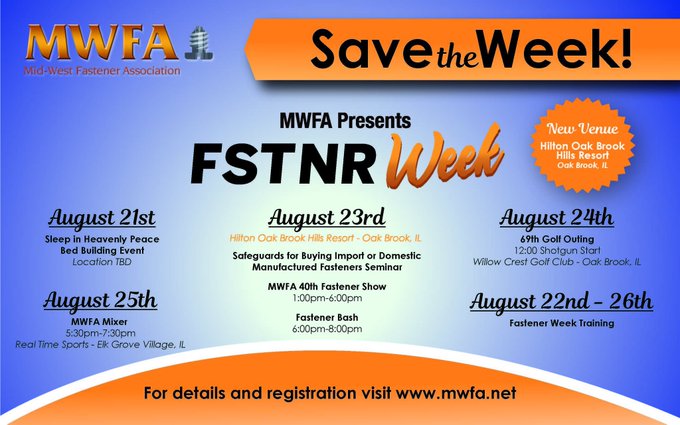 Save The Week for the Midwest Fastener Association's FSTNR WEEK! Happening August 21-26th. Get involved at a Bed Building Event that benefits Sleep in Heavenly Peace, A Fastener seminar, golf outing and more! 👉 Registration and more info: http://MWFA.net
Twitter: @MWFA_News @ShpBeds
---
 Stay in the know about all the latest industry events at FastenerNewsDesk.com
---
In 3D Printing News…
Würth Additive Group Hit the Road Again with their 3D DEMO DAYS Tour!
Join Wurth as they travel across North America to showcase their entire spectrum of 3D printing and digital inventory capabilities. Their next Tour stop is on May 11th & 13th in Libertyville, IL
Check out their tour schedule to see when they'll be in your area! For more info go to wurthindustry.com
---
🏆 The International Fastener Expo Fastener Hall of Fame recognizes professionals who have made significant and enduring contributions to the fastener industry. This year marks the 40th anniversary of the Hall of Fame Awards! Who do you think should be honored with this prestigious award this year? To nominate go to FastenerShows.com. The deadline to submit nominations is July 30th.
Twitter: @FastenerShow
---
The stories featured in this week's episode of IN THE NEWS can be found at Fastener News Desk or in our Twitter feed @FastenerNews and on LinkedIn in the Fastener News Group!
---
Fastener News Desk is preparing for the grand opening of the Fastener Museum! The online museum will feature a collection of industry memorabilia that dates back over the past decades. We welcome your fastener company to share individual digital images of your memorabilia with us to add to the Fastener Museum and help create the largest online collection of fastener related history.
---
This week's episode has been sponsored by Product Genius Technology. Enhance your website customer experience with the best view for industrial product search. The past two years have certainly been a digital wake-up call for distributors and manufacturers. B2B buyers' behaviors have gone full on digital! Digitizing data and product information is key to the beginnings of your business's digital transformation.  Is your product data ready for eCommerce and a great user experience.
Product Genius Technology's services include, data cleaning and preparation, consulting, and strategizing. Contact ProductGeniusTechnology.com or call 1-800-fasteners to find out how to get started today.
---
If you would like to share your company's events, news or sponsor an upcoming episode of IN THE NEWS or would like to add to the Fastener Museum me: lisa@fastenernewsdesk.com.
Thanks for tuning in to this week's episode of IN THE NEWS with Fastener News Desk.

Until next week, be well, be safe and Keep it Fastenating.
---
Tags:
#FastenerExpo #FastenerNews #Fasteners #COVID #SupplyChain #Taiwan #distribution #fastenernews #fasteners #distribution #industrial $FAST #fastenernews #fasteners #workforce #training #fasteners #fastenernews #FSTNRweek
---
RELATED CONTENT:
IN THE NEWS with Fastener News Desk the Week of May 2nd, 2022
IN THE NEWS with Fastener News Desk the Week of April 25th, 2022